There was no fire, but the ground was hot enough in a Colorado Springs park to burn through an eight year old boy's shoes and cause at least second degree burns on his feet. The boy went the hospital. His Crocs style shoes that were left behind have big holes with burned edges.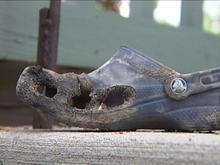 ©Unknown
Firefighters want to know what's causing the ground to get so hot near Golden Hills Park in the Rockrimmon neighborhood. Battalion Chief, Kent Matthews says, "In my twenty-four years I haven't witnessed this kind of occurrence. So it's unique."
After the boy was treated and sent to the hospital firefighters took surface readings that showed hard to believe temperatures. According to Chief Matthews, "The highest temperature we got at the surface of the soil with the sun shining on it was 800 degrees, which is pretty darn significant. Radiant heat from the sun will get it up around 150, 160 degrees, but not to that level."
Firefighters have taped off the area and are monitoring it until they can figure out what's causing the ground to get so hot. Tests by hazmat team members show there are no dangerous gases. Crews have cut a fire-line around the area to prevent the heat from potentially starting a wildfire.
Early assessments show the problem area is coal dust. Neighbors say the area has appeared blackened as long as they can remember. What has to be determined is if it was dumped here years ago or if there's something happening underground. Crews from the state geological are on the way to figure out an explanation.