BOGOTA - Colombian emergency workers and residents used spades and rescue dogs to hunt for victims on Saturday after rains trigged a landslide that killed at least six people when it swept over a poor Medellin neighborhood.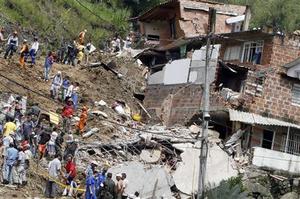 ©REUTERS/Fredy Amariles
Colombian rescue workers search for victims after a flood in Medellin May 31, 2008. Floods triggered by rains destroyed at least 20 homes, killing six people and left 30 missing, authorities said.
An avalanche of mud and rubble buried about 20 homes, and as many as 20 people were still missing in the latest disaster triggered by the country's intense winter season and heavy rainfall, authorities said.
"We have six people dead and at least 20 people reported missing," said Camilo Zapata, director of the Medellin municipal disaster prevention office, told Reuters by telephone from the site.
"We are still carrying out operations to reach the missing people," he said.
Dozens of rescue workers and local residents scoured through mud and wrecked houses for victims after some heard voices of those trapped underneath their buried homes.
"I was sleeping at the time and a wall in the kitchen collapsed on top of me. My mother pulled me out," John Alexander Zapata told reporters after the landslide.
More than 100,000 people have been driven from their homes by the flooding that has knocked down bridges, blocked roadways and damaged crops across the country.