Chengdu, China - China raised the number of dead or missing from a devastating earthquake to more than 70,000 on Tuesday, as rescuers found more survivors eight days after the huge tremor hit.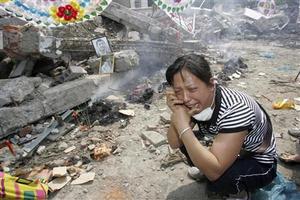 ©Reuters/China Daily
A woman cries for her child who died during the earthquake near a collapsed school in Juyuan town of Dujiangyan, Sichuan province, May 19, 2008.
A government statement said the number killed had now topped 40,000, and state news agency Xinhua reported that a further 32,000 were missing.
Authorities had previously said they expected the final death toll to exceed 50,000. More than 247,000 were injured.
In Wenchuan county, epicenter of the May 12 quake in mountainous Sichuan province, rescuers found a man alive after 179 hours buried in the rubble, state media said.
Ma Yuanjiang, 31, a power plant executive, spoke after he was rescued, but his body was "as fragile as that of a newborn baby", Chongqing Xinqiao hospital president Wang Weidong said.
"The next 12 hours are crucial for Ma's survival. The patient finished the first half of a life miracle, now we are trying to do the second," Xinhua quoted Wang as saying.
His rescue came as authorities tried to restore calm in the provincial capital, Chengdu, after tens of thousands rushed into the streets overnight alarmed by a television prediction of another powerful earthquake.
But as darkness fell over Chengdu on Tuesday thousands of residents prepared makeshift shelters to sleep outside, too afraid to stay overnight in their homes.
That, along with fresh aftershocks and forecast heavy rain, compounded the difficulties for military, government and private workers trying to ensure millions of homeless are fed and housed.
Anger was building among bereaved parents in Sichuan over the way many school buildings had collapsed, burying whole classrooms full of children. In one town, in a rare public protest, hundreds demanded punishment for anyone guilty of shoddy construction.
Chengdu residents rushed from their homes before midnight on Monday, alarmed by the prediction of another earthquake after the 7.9 magnitude tremor on May 12.
Hundreds of aftershocks have been felt over the past week, bringing down more buildings and causing landslides. A few hours after the television report, a 5-magnitude tremor was felt.
But on Tuesday, provincial television screened interviews with a series of seismological bureau officials to explain the prediction and calm a jangled populace.
"Just because you can feel aftershocks, it doesn't mean they will hurt you. Of course, that doesn't mean you should stand in harm's way," said Han Weibing, researcher with the local seismological bureau.
The quake warning also prompted panic in neighboring Chongqing municipality and Guizhou province.
Anger Over Schools
The pandemonium showed how the main quake and its aftershocks have stretched nerves to breaking point.
"
I think the television coverage is overdoing it. They're scaring people
," said a hotel worker surnamed Li, who spent the night in a public park.
The most lamented victims of the quake have been the thousands of children who died when school buildings collapsed.
In Juyuan town, hundreds of grieving parents demanded an annual memorial day for their children, punishment of officials or builders responsible for shoddy schools and compensation.
"How come all the houses didn't fall down, but the school did? And how come that happened in so many places?" demanded Zhao, whose two daughters were crushed to death.
"We want a memorial day for the children, but we also want criminal prosecution of those responsible, no matter who they are."
As China's ruling Communist Party seeks to maintain a staunch front of unity and stability after the quake, the incipient protests by parents could be troublesome, for many of them blame official graft and laxity, more than nature, for the deaths.
Xinhua quoted a military source as saying rescuers had reached all the villages and towns in Sichuan province by Tuesday evening.
Whole towns have been flattened in mountainous areas north and west of Chengdu, and about 5 million people are homeless, prompting the government to seek foreign help in the form of tents.
The quake has prompted a huge outpouring of public sympathy both at home and abroad, with 13.9 billion yuan raised to date.
($1=6.990 Yuan)
(Writing Nick Macfie and Jeremy Laurence; Editing by Roger Crabb and Alex Richardson)