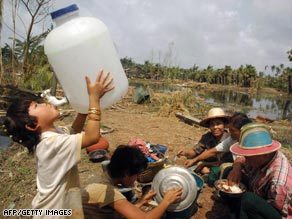 ©CNN
A girl drinks water from a container as her homeless family eat donated food in the outskirts of Yangon on May 7.
The death toll from the cyclone that ravaged the Irrawaddy delta in Myanmar may
exceed 100,000
, the senior U.S. diplomat in the military-ruled country said Wednesday.
"The information we are receiving indicates over 100,000 deaths," said the U.S. charge d'affaires in Yangon, Shari Villarosa.
The U.S. figure is almost five times the 22,000 the Myanmar government has estimated.
The U.S. estimate is based on data from an international non-governmental organization, Villarosa said without naming the group. She called the situation in Myanmar "more and more horrendous."
"I think most of the damage was caused by these 12-foot storm surges," she said.
Villarosa also said that about 95 percent of the buildings in the delta region were destroyed when Cyclone Nargis battered the area late Friday into Saturday.
On Wednesday, U.S. Secretary of State Condoleeza Rice once again called on the junta to allow aid into the country and said she is speaking with leaders from other nations who may be able to help persuade Myanmar's leaders to do so.
"It should be a simple matter," Rice said. "This is not a matter of politics; this is a matter of a humanitarian crisis, and it should be a matter that the government of Burma wants to see its people receive the help that is available to them, and so we are speaking with governments that might have influence with Burma."
Myanmar is also known as Burma.
The United States has pledged $3.25 million and offered to send Navy ships to the region to help relief efforts -- if Myanmar's government agrees.
The U.S. military has flown six cargo helicopters onto a Thai airbase as Washington awaits permission to go into the south Asian country, two senior military officials told CNN's Barbara Starr.
Villarosa said 70,000 people are missing in the Irrawaddy Delta, which has a population of nearly 6 million people. The official Myanmar government figure for the missing is 41,000.
"I can only assume that the longer the delay, the more victims that are created," Villarosa said.
Little aid has reached the area since Nargis hit, and on Wednesday, crowds of hungry survivors stormed reopened shops in the devastated Irrawaddy delta.
The United Nations urged the military junta to grant visas to international relief workers amid estimates of 1 million homeless.
A United Nations official said that nearly 2,000 square miles (5,000 square km) of the hard-hit delta are still underwater.
Comment:
Click here
to see an amateur video of the cyclone crashing ashore.
Charity workers have gathered at Myanmar's embassy in Bangkok, Thailand, with vehicles, emergency food supplies and medicine, waiting for their visa requests to be approved.
"We need this to move much faster," said John Holmes, U.N. humanitarian chief, after reading a statement from Secretary-General Ban Ki-moon.
There were reports of "civil unrest" in the worst-hit areas where people are scrambling for limited food supplies, a U.N. spokesman said.
In the flood-soaked Irrawaddy delta townships, U.N. assessment teams observed "large crowds gathering around shops -- the few that were open -- literally fighting over the chance to buy what food was available," World Food Program spokesman Paul Risley said Wednesday from Bangkok.
There were also also reports of price gouging in urban areas around Yangon, Myanmar's largest city and former capital.
"There were long lines of people trying to buy what food was available, even at those higher prices," Risley said.
The delta, Myanmar's rice-growing heartland, has been devastated by Cyclone Nargis, threatening long-term food shortages for survivors, experts said.
"We can't delay on this; this is a huge disaster, and the longer [Myanmar] waits, the worse it's going to become," International Rescue Committee spokesman Gregory Beck said.
The Rome, Italy-based U.N. Food and Agriculture Organization estimates that five states hit hardest by Saturday's cyclone produce 65 percent of the country's rice, The Associated Press reported.
"There is likely going to be incredible shortages in the next 18 to 24 months," Sean Turnell, an economist specializing in Myanmar at Australia's Macquarie University, told AP.
Holmes said 24 countries had pledged financial support, with a total of $30 million expected in aid.
The WFP, which has started feeding the estimated million homeless, said there were immediate concerns about salvaging harvested rice in the flooded Irrawaddy delta.
The cyclone battered the country with winds of 240 kph (150 mph) and 3.5-meter (11.48 feet) storm surges.
Damage was also extensive in the country's largest city, Yangon. Much of the former capital is without power and littered with debris and fallen trees.
CNN's Dan Rivers, the first Western journalist into the devastated town of Bogalay, said Wednesday that it was difficult to find the words to describe the level of destruction.
"Ninety percent of the houses have been flattened. ... The help that these people are getting seems to be pretty much nonexistent, from what we've seen."
He saw members of Myanmar's army clearing roads but handing out little food or medicine.
"There has been scant help, really. I think we saw one or two Red Cross vehicles in the entire time we were driving," Rivers said of his travels over a 12-hour period.
Hundreds of World Vision staff are in Myanmar with limited supplies, according to spokesman James East.
Tons of supplies have been readied in Dubai and can be brought in quickly once clearance is given.
"Even when aid comes in, it's going to be a logistical nightmare to get it out to the remote delta region," East said.
However, Yangon is almost back to normal, World Vision health adviser Dr. Kyi Minn said. Roads have been cleared of debris, and electricity and potable water are available.
The Myanmar Red Cross has been handing out relief supplies, such as drinking water, plastic sheeting, clothing, insecticide-treated bed nets to help prevent malaria, and kitchen items, the International Federation of Red Cross and Red Crescent Societies said.
Other countries and world bodies offering help include Britain, Japan, the European Union, China, India, Thailand, Australia, Canada and Bangladesh have also pitched in.
Based on a satellite map made available by the U.N., the storm's damage was concentrated over a 30,000-square-kilometer area along the Andaman Sea and Gulf of Martaban coastlines, home to nearly a quarter of Myanmar's 57 million people.