A devastating cyclone killed nearly 4,000 people and left thousands more missing in army-ruled Myanmar, state media said on Monday, a dramatic increase in the toll from Saturday's storm.
The death toll only covered two of the five disaster zones where U.N. officials said hundreds of thousands of people were without shelter and drinking water in the impoverished Southeast Asian country.
"The confirmed number is 3,934 dead, 41 injured and 2,879 missing within the Yangon and Irrawaddy divisions," Myanmar TV reported three days after Cyclone Nargis, a storm with winds of 190 kph (120 mph), hit the Irrawaddy delta.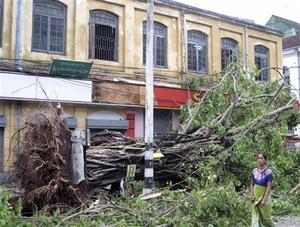 ©REUTERS/Xinhua/Zhang Yunfei
People walk past fallen trees on a street in Myanmar's biggest city Yangon on May 3, 2008 in this picture distributed by China's official Xinhua News Agency.
Earlier, official reports put the death toll at 351, but the number of casualties had been expected to rise as authorities made contact with hard-hit islands and villages in the delta, the rice bowl for the nation of 53 million.
The military, which has ruled for 46 years and is shunned by the West, has not yet issued an appeal for international aid.
Its leaders, in the isolated new capital of Naypyidaw, 400 km (240 miles) north of Yangon, said they would go ahead with a May 10 referendum on a new army-drafted constitution that critics say will entrench the military.
The last major storm to ravage Asia was Cyclone Sidr which killed 3,300 people in Bangladesh last November.
In the former capital Yangon, food and fuel prices have soared as aid agencies scrambled to deliver emergency supplies and assess the damage in the five declared disaster zones, home to 24 million people.
"How many people are affected? We know that it's in the six figures," Richard Horsey, of the U.N. disaster response office, told Reuters after an emergency aid meeting in Bangkok on Monday before the state TV announcement.
"We know that it's several hundred thousand needing shelter and clean drinking water, but how many hundred thousand we just don't know."
Critical
The U.N. office in Yangon said there was an urgent need for plastic sheeting, water purification tablets, cooking equipment, mosquito nets, health kits and food.
It said the situation outside Yangon was "critical, with shelter and safe water being the principal immediate needs".
Thailand responded to the disaster, sending a C-130 transport plane loaded with 9 tonnes of food and medicine to Yangon after the airport reopened on Monday.
In Yangon, many roofs were ripped off even sturdy buildings, suggesting damage would be severe in the shanty towns that lie on the outskirts of the city of 5 million people.
Clean water was scarce. Most shops had sold out of candles and batteries and there was no word when power would be restored.
Long queues formed at the few open petrol stations. The price of a gallon of petrol has doubled on the black market, while egg prices have tripled since Saturday.