SANTIAGO - A volcano spewed ash over Patagonian towns in southern Chile on Sunday, two days after its first eruption in thousands of years forced authorities to evacuate some 4,000 residents.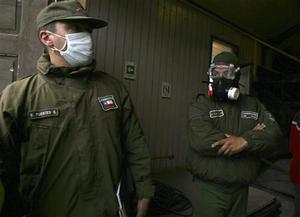 ©REUTERS/Ivan Alvarado
Police wear masks to protect them from ash, in Chaiten, located some 1220 km (760 miles) south of Santiago May 3, 2008.
Local media said an elderly woman died as rescue teams evacuated the last remaining people from the town of Chaiten, close to where the snow-capped volcano of the same name erupted on Friday, triggering earth tremors and sending a cloud of ash two miles into the air.
There is no record of the volcano erupting in the last 2,000 years, according to Chilean geology officials.
President Michelle Bachelet visited the area on Sunday with several government ministers and said she hoped to fly over the worst-affected areas.
"The idea that we have is to try to fly over the Chaiten volcano, go to Chaiten and if the conditions allow, to Futaleufu," Bachelet told reporters in the nearby city of Puerto Montt, praising the evacuation effort.
Residents were also evacuated from nearby Futaleufu.
Southern Chile is fragmented into hundreds of small islands and fjords. Some residents had never ventured from Chaiten itself until the 3,280-foot (1,000-meter) volcano six miles away forced them to leave.
Chile's 2,000 volcanoes include two of Latin America's most active -- Villarica and Llaima. Scientists say some 500 are potentially active. Chile has the world's second most active string of volcanoes behind Indonesia.
Llaima, about 435 miles south of Santiago, erupted on New Year's Day, spewing ash and molten lava and forcing dozens of tourists and staff to evacuate a wilderness park.