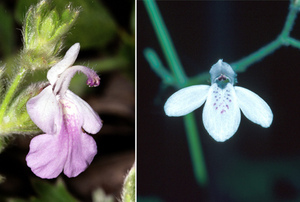 ©Bruce Wannan (left) and Paul Forster (right), courtesy Queensland Herbarium, Environmental Protection Agency.
Two supposedly extinct plants - the pink-flowered mint Teucrium ajugaceum, (left) and Rhaphidospora cavernarum, (right) - have been rediscovered on a peninsula in northern Australia, scientists announced recently.
Two woodland plants long thought extinct have reappeared in far northern Australia, experts announced recently.
Teucrium ajugaceum, a pink-flowered mint that lives in eucalypt woodlands, had not been seen since 1891 and was listed as extinct in 1992.
Rhaphidospora cavernarum, not seen since 1873, also frequents eucalypt forests. Though it grows to almost 5 feet (1.5 meters) tall and boasts white and purple flowers, the plant had somehow evaded surveyors until now.
The discoveries in Queensland's Cape York Peninsula were revealed in a Queensland Environmental Protection Agency (QEPA) report released earlier this month.
Ingenious Adaptation
T. ajugaceum was spotted near the town of Musgrave in 2004 by QEPA staff who were investigating the impacts of road construction.
Extracting gravel to build roads may represent the biggest threat to the plant's survival, said the agency's biodiversity planning officer Bruce Wannan.
"That's been an ongoing challenge [in road construction] - to try and avoid impacting species."
The rediscovered plant has an "ingenious adaption" for dealing with bushfires, Wannan added.
"It has a large underground tuber, to which it dies down each year at the start of the dry season," Wannan said.
"Then it resprouts at the beginning of each wet season. That seems to be a good mechanism for avoiding the worst impacts of fires."
Even so, the mint has been reclassified as "vulnerable" on account of its limited range.
Little Known
Scientists know little about the ecology of the herb R. cavernarum, said Gordon Guymer, director of the QEPA's Queensland Herbarium.
"We only know it from a few scattered locations, so we don't have a precise idea of what its range or habitat requirements are."
R. cavernarum faces competition from exotic weeds, cattle grazing, and bushfires.
But cultivating specimens in greenhouses would be a last resort, especially since breeding can be difficult, Guymer added.
"The first thing to do is to monitor these populations, identify any threats, and see whether we can manage or control those threats.
"Our preference is for in situ management."
Both species may also benefit from an Australian national park expansion program announced recently.
Under the new plan, an extra 50 percent of Queensland's wilderness will be protected by 2020 - creating a total of 46,332 square miles (12 million hectares).