Archaeological studies on some engravings on rocks on Khark Island have identified them as a compass and ancient game boards.
The engravings are between 2000 and 3000 years old, archaeologist Reza Moradi Ghiasabadi, who conducted the recently concluded studies, told the Persian service of CHN on Saturday.
The compass has been etched in rectangular form with rounded angles on a flat rock located on the ground beside an ancient route, Moradi Ghiasabadi explained. A curve has been engraved on the upper half and four lines forming a cross stretch to the four sides of the rectangular shape, he noted.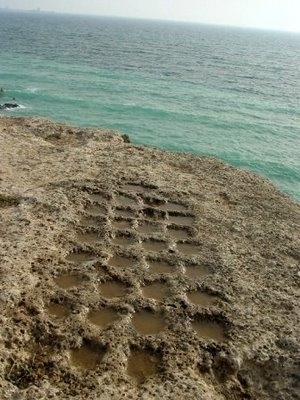 ©Unknown
An ancient game board, Khark Island
The lines have been placed in a position to determine the cardinal points and have only two degrees of error based on the Global Positioning System (GPS), he added.
The compass has been damaged in some parts because it appears to have been severed from a larger rock in a collapse.
"It is a unique discovery in Iran and a great effort should be made to safeguard it because we must not relocate it due to its use in positioning," Moradi Ghiasabadi noted.
He has also discovered a series of game boards carved in different shapes on stone and coral rocks, mostly on the shoreline.
The game boards, which are being threatened by erosion, bear round holes measuring four to ten centimeters in diameter.
Archaeologists had previously discovered wooden game boards at the 5200-year-old Burnt City, near the city of Zabol in Sistan-Baluchestan Province, and a similar game board made of stone in Kermanshah.
The Khark game boards have been created in different shapes and are something like modern backgammon boards, Moradi Ghiasabadi stated. He has identified seven types of ancient game board on the island so far.
In mid-November 2007, an Achaemenid era stone inscription was discovered during a road construction project on Khark Island, which reads "(This) land was a dry area with no water; (I) brought happiness and welfare, Bahana... water wells."
The cuneiform inscription, which is etched on a piece of uneven rock encrusted with coral, is also threatened by the forces of nature and vandalism because the valuable relic has been provided no protection.