The term "Collins Street farmer" was given a new meaning last week, as Melbourne, along with most of the state, was inundated by dust caused by fierce winds which reached more than 130 kilometres per hour.
The dust was topsoil from farms across south-eastern Australia, including large tracts of South Australia and northern Victoria.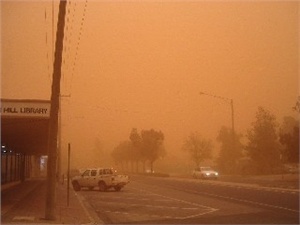 ©Unknown
Dust sits over Swan Hill last week
Department of Primary Industries Horsham soils health management officer Bernard Noonan estimated the damage would be in the millions of dollars, but said it was difficult to accurately assess.
"Obviously there's the loss of the topsoil, but also you have to factor in the fertiliser that is also blown away - as much of the available nitrogen and phosphorus sits in the top few millimetres of soil," Mr Noonan said.
He said the problem was exacerbated this year by the higher number of growers controlling summer weeds by cultivation due to the high price of glyphosate.