There was some coverage of the chaos caused in central and southern China by their heaviest snowfalls for decades -
but little attention was paid to the snow that last week carpeted Jerusalem, Damascus and Amman, none of them exactly used to Dickensian Christmas card weather.
Similarly, Saudis last month expressed amazement at their heaviest snow for many years, in Afghanistan snow and freezing weather killed 120 people and large parts of the United States and Canada have been swept by unusually fierce blizzards.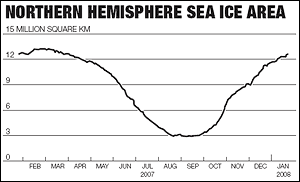 ©Unknown
If the northern hemisphere's chilliest winter in a long time was bad news for the propagandists of global warming, they also had to face serious questions about some of the most iconic images used to support the claims that the world is hotting up towards disaster.
Last autumn the BBC and others could scarcely contain their excitement in reporting that the Arctic ice was melting so fast there would soon be none left.
Sea ice cover had shrunk to the lowest level ever recorded. But for some reason the warmists are less keen on the latest satellite findings, reported by the US National Oceanic and Atmospheric Administration (NOAA) on the website Cryosphere Today by the University of Illinois.
This body is committed to warmist orthodoxy and contributes to the work of the UN Intergovernmental Panel on Climate Change.
Yet its graph of northern hemisphere sea ice area, which shows the ice shrinking from 13,000 million sq km to just 4 million from the start of 2007 to October, also shows it now almost back to 13 million sq km.
A second graph, "Global Ice Area", shows a similar pattern repeated every year since satellite records began in 1979;
while a third, "Southern Hemisphere Ice", shows that sea ice has actually expanded in recent years, well above its 30-year mean.
Still more inconvenient was the truth about an image that has been relentlessly exploited to promote this panic over the "vanishing" Arctic ice. It is the photograph of two polar bears standing forlornly on the fast-melting remains of an iceberg which has been reproduced thousands of times to show that there will soon be no bears left (ignoring evidence that their numbers have risen recently).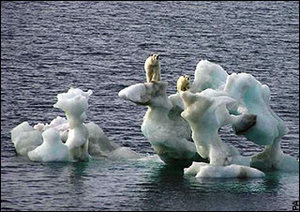 ©Amanda Byrd
The biologist who took this picture says this pair were within easy swimming distance of the Alaskan coast
Now, thanks to a Canadian journalist, Carole Williams (on NewsWithViews.com), we can read the story behind this picture, which was taken in 2004 just off Alaska by a marine biologist, Amanda Byrd. As Ms Byrd is happy to point out, the bears were in no danger so close to the coast (they can swim 100 miles). She wanted a photograph more of the "wind-sculpted ice" than of the bears.
The image was copied by another member of the crew and passed on to Environment Canada. Then it was eagerly adopted by the warmist propaganda machine - above all by Al Gore, who used it to powerful effect as an emotive backdrop to his highly lucrative lectures.
"Their habitat is melting," he likes to declaim, "beautiful animals, literally being forced off the planet."
As the old joke has it, it seems those famous bears were not drowning after all, they were just waving. But the BBC is no more likely to tell us that than it was to lead the news with last week's snow in Jerusalem.