Health managers have promised a better emergency dental service after one man was left in agonising pain and felt forced to pull out a tooth with pliers.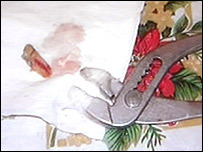 ©BBC News
Jan Kvasna used pliers to extract the tooth
Jan Kvasna, 42, of Norwich, Norfolk, acted after NHS Direct promised it would provide an emergency dentist but failed to do so.
The Norfolk Primary Care Trust has now told the BBC the NHS Direct has lost its dental service contract in Norfolk.
NHS Direct said it could not comment on confidential patient information.
Mr Kvasna developed the toothache on Saturday afternoon.
Rang 999
His friend Oresd Lisovsky called NHS Direct - which provides the emergency dental service in the county.
Mr Lisovsky said the NHS Direct worker told him "she would try and find the nearest emergency dentist".
"She promised to call back, but she did not," he said.
As his friend's pain grew, Mr Lisovsky eventually dialled 999.
The East of England Ambulance Service despatched an ambulance to his house.
However, the paramedics said there was nothing they could do, which then prompted Mr Kvasna to act.
NHS Direct explained their service depends on there being emergency dentists available in the area where a patient lives.
But Jason Stokes, of the Norfolk Dental Committee, said he had raised serious concerns about the service provided.
"Unfortunately there are many limitations to this service," he said.
"The bulk of money is paid to the NHS to field phone calls not to pay dentists."
The primary care trust confirmed it has taken away NHS Direct's emergency dental contract.
In a statement it said: "We have recently agreed on a new provider who will be managing what we have developed to be a more effective service, from April 2008.
"This service will continue to work with local dentists to deliver care."
The new provider will be the ambulance service, the BBC understands.