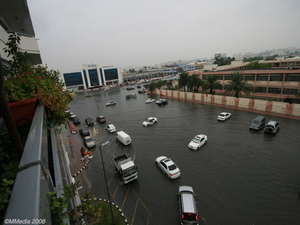 Downtown Dubai Jan. 16, 2008
Two people were killed in traffic accidents caused by rains in Dubai on Tuesday, Dubai Police announced. Colonel Omar Al Shamsi, Director of Control and Command Room, Dubai Police, said some 584 road accidents were reported on Tuesday.
People across the Gulf faced torrential downpours and may soon see a rare snowfall, in a region which traditionally holds prayers to ask for rain.
In the Saudi Arabian capital Riyadh, residents said the temperature had fallen to below freezing level,
increasing chances that it might snow, an event Saudis usually only see on television or during travels overseas.
In some parts of the UAE, where shops usually do not even sell heaters, snow had been reported earlier in mountainous areas and relentless rain took the country by surprise over the past two days. Air conditioning units stopped, traffic lights went dead and emergency generators kicked into action as the effects took their toil. Cars were abandoned across the city as motorists realised they were unable to battle the depth of water on the roads.
Residents in The Springs, Meadows and Arabian Ranches, some of the worst hit communities, were left stranded for up to an hour while the water build up subsided.
Rain leaked into many upstairs rooms from the balconies in The Springs and Meadows soaking curtains, rugs and personal possessions.
The rains - caused by cold air moving into the upper atmosphere from the Northwest - began in the Jebel Ali area and by about 8.00am on Tuesday had moved into Dubai. Forecasters put out warnings for air, sea and road travel, with offshore winds expected to gust at up to 40 knots.
Phil Targett, a duty forecaster at Dubai International Airport, said: "We'll see further rain and thunderstorms into Friday, and there could also be isolated showers on Saturday."
By shortly after midday on Tuesday, meteorologists at Dubai International Airport had recorded 12.8 mm of rain.
Arriving for a visit on Sunday, President George W Bush carried an umbrella to face the rain at the airport in Abu Dhabi, the UAE's usually hot and sunny capital.
Many roads were flooded in the Emirate of Dubai, which attracts sun-hungry tourists with its year-round blue skies. Roofs in some luxury hotels and shopping malls were leaking water and several schools asked parents to keep their children home on Wednesday.
Weather forecasts show that more rain is expected in many parts of the region until the end of the week.
In June, Oman was hit by a cyclone that killed more than 50 people and wrecked havoc in the country, damaging infrastructure and displacing thousands.