High winds battered much of southern British Columbia Monday, leaving more than 200,000 people without power and stranded thousands more as almost every form of air and water transportation was affected.
Environment Canada estimated winds would reach 90 kilometres per hour, disrupting travel by ferries, float planes and even small regional commuter aircraft between the Lower Mainland and much of Vancouver Island.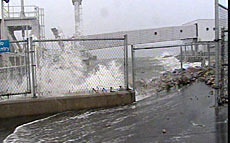 ©CBC News
Wind and waves washed through the Tsawwassen Ferry terminal Monday morning as a major storm shut down ferry service on several routes.
BC Ferries cancelled all sailings on all of its major routes with the exception of Horseshoe Bay-Sunshine Coast.
The Vancouver-area Tsawwassen terminal, Departure Bay in Nanaimo, and most of the small routes on Vancouver Island were shut down due to high winds, although some smaller routes resumed service before noon.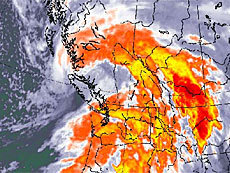 ©CBC News
Tens of thousands of BC Hydro customers were without power Monday morning as a large storm crossed over the coast.
Harbour Air, the dominant harbour-to-harbour float plane service between Vancouver and Victoria, cancelled all flights.
Helijet's Vancouver-Victoria service continued to operate.
Victoria station manager Jeff Murdock, said the helicopters aren't affected by wind.
"In 21 years of service, we've never been shut down because of the wind," he said, although Helijet was working on a reduced weekend schedule.
BC Hydro said power was knocked out to a wide swath of southern B.C., as flying branches and toppled trees downed power lines.
Much of the damage took place in the Lower Mainland and all over Vancouver Island.
"This is as bad a windstorm as we had last year," said Gillian Robinson, a media spokeswoman.
Robinson said the continued high winds made it dangerous for crews to reconnect homes, and in many areas had to simply take stock of the damage while they waited the storm out.
"The crews can't get out there right now because of the danger, so they are out doing surveys," she said.
More than 100,000 people were without power in the Lower Mainland, with the remaining outages on Vancouver Island, the Sunshine Coast and Gulf Islands.
A number of roads and highways were also closed.
About 10,000 customers are without power in the Victoria area, said Ted Olynyk, B.C. Hydro's manager of community relations for Vancouver Island.
"We've brought in as many crews as we can and obviously we'll need them for a great length of time today and tomorrow," said Olynyk.
Northern Vancouver Island has been hit hardest by this first significant storm of 2007.
In Courtenay and the Comox Valley, 30,000 customers are without power. In Campbell River, 16,000 are without power.
A mudslide closed Highway 19 between Port Hardy and Campbell River, as well as Highway 19a in two places just south of Courtenay and north of Parksville.
Highway 7 was also closed in both directions between Ruskin and Mission because of a tree on the road. Highway 20 to Bella Coola was blocked in two places west of Anahim Lake because of heavy snow.
Most major routes to the Interior remained open, although many were covered in slush or wet snow.