Comment:
In light of the anomalous nature of what little evidence has thus far emerged concerning what happened to
Russian Flight 9268
, we're re-running this article about weird fires in northern Sicily in 2007.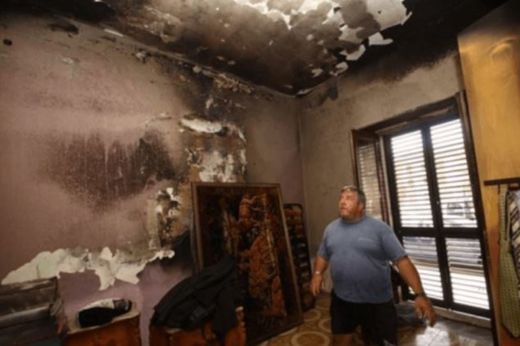 Aliens were responsible for a series of unexplained fires in fridges, TVs and mobile phones in an Italian village, according to an Italian government report. Canneto di Caronia, in northern Sicily, drew attention three years ago after residents reported everyday household objects bursting into flames.
TV news footage at the time showed electrical appliances as well as cookers, a pile of wedding presents and furniture smouldering. Dozens of experts including scientists, electrical engineers and military boffins, arrived in the village 60 miles east of Palermo to investigate the phenomenon.
Arson was quickly ruled out and at one stage an amazed scientist was interviewed after he described how
he saw an unplugged electrical cable burst into flames
.
Locals were quick to blame supernatural forces and at the time the Vatican's chief exorcist Father Gabriele Amorth backed up their fears and said: "
I've seen things like this before. Demons occupy a house and appear in electrical goods. Let's not forget that Satan and his followers have immense powers
."
Now, in an interim leaked report published by several Italian newspapers, it has emerged that the Civil Protection Department has concluded the most likely cause was "aliens".

Comment: Actually, as we'll see below, that is NOT what the report said. "Aliens" is The Telegraph, like all Western media at the time, pre-emptively sensationalizing the findings of this Italian government report. The reason they did this, we suspect, was to 'blow smoke' on behalf of the perpetrators.


The report was ordered by the Italian government and brought together dozens of experts including a NASA scientist. Their two-year investigation has cost an estimated £1 million.
According to the report,
the fires were "caused by a high power electro magnetic emissions which were not man made and reached a power of between 12 and 15 gigawatts."
The report also detailed a possible UFO landing close to the village, citing "burnt imprints which have not been explained were found in a field."
Francesco Mantegna Venerando, Sicily's Civil Protection chief who coordinated the report, said:
"This is not the final report. We are still working on our conclusions and this has been leaked. We are not saying that 'little green men from Mars' started the fires but that unnatural forces capable of creating a large amount of electromagnetic energy were responsible. This is just one possibility we are also looking at;

another one involves the testing of top secret weapons by an unknown power

, weapons capable of producing an enormous amount of energy."