Nearly 20 people are dead or missing in the worst floods to hit northern and central provinces in the last 20 years, Tuoi Tre newspaper said on its website.
The floods set off a landslide in Moc Chau District in the mountainous Son La Province yesterday, killing two children and causing damages of VND1 billion to a truck and two motorbikes. On Thursday four people went missing and traffic was blocked due to floods and landslides.
VietNamNet reported that the district's Nong Truong and Moc Chau towns were inundated yesterday morning, and cut off from other areas. Heavy damage to property is feared.
Heavy rains lasting several days in the nearby province of Lao Cai triggered landslides and floods and forced locals to move to safer places. There are no reports of casualties but loss to property is estimated at several billions of dong.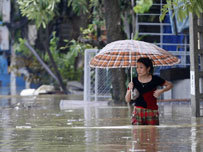 ©n/a
A resident wades through a flooded street during rain in Nghia Quang commune in Vietnam' central Nghe An province
12 killed in central region
Yesterday morning heavy rains and floods hit the western part of Nghe An Province without warning, killing at least eight people and injuring 13 others, inundating 697 homes and tens of thousands of hectares of cash crops in five mountainous districts.
Phan Thanh Hai, head of Nghia Dan District's Department of Agriculture and Rural Development, said the rapidly-flowing floods were likely to totally destroy 800 hectares of rice and badly damage 210 hectares, besides 7,500 hectares of sugarcane and nine hectares of rubber, all of which were ready to be harvested.
Residents described it as the worst floods in the last 20 years. They said a river flowing through Muong Noc village had begun to rise sharply Thursday, causing massive damage. In Thanh Hoa Province, the flood caused Cua Dat Lake in Tho Xuan District to break its banks, drowning 5,000 houses and killing two people. In the province, over 37,000 hectares of rice, sugarcane, and other crops have been destroyed and their loss is estimated at VND355 billion (US$22.2 million). Do Minh Quy, head of the Thach Thanh District administration, said the Buoi River was flowing nearly one meter higher than its normal level.
Also yesterday, a 1.5-meter flood hit Xuan Giang Commune of Ha Tinh Province, sending residents fleeing to safety. Nguyen Khuong, the head of Hong Lam Village, said, "We are very worried - the waters are rising quickly and we face the risk of starving."
Embankment breaks again
Elsewhere, a dyke under construction in the central province of Quang Nam broke at dawn Thursday for the second time in as many months despite repeated earlier warnings about its construction.
About 150 meters of the newly-built structure were swept away, threatening the lives of some 1,300 people as Typhoon Lekima dumped torrential rains and floods on the already beleaguered central and northern coast.
Hundreds of hectares of farmland were washed away as the Dai Cuong Dyke in Dai Loc District was breached yet again. The dyke's contractors, two local companies, blamed bad weather. Few were impressed.
In July, local residents filed complaints to authorities about the tardiness of the project and warned inspectors that contractors had not only used soil instead of stones to build the dyke, but had also built it to a height of only 6.5 meters while floods in Vu Gia River are expected to reach up to ten. The levy broke for the first time in August, also due to rivers breaching their banks.
The dyke's construction, funded by the Ministry of Agriculture and Rural Development, started in June at a cost of VND42 billion (over US$2.6 million). Its construction is aimed at controlling spate in the Vu Gia, Quang Hue, and Thu Bon rivers. Nguyen Thanh Quang, head of the province's department of agriculture, said local authorities would petition the ministry for instructions.