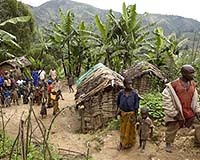 ©Associated Free Press
Rwanda
New York NY - Rwandan President H. E. Paul Kagame unveiled his country's first national conservation park to promote reforestation and conservation, and research to enhance knowledge of the world's rapidly diminishing number of great apes. In collaboration with Ted Townsend, founder of Earthpark and Great Ape Trust of Iowa, President Kagame announced at the Clinton Global Initiative a joint 10-year program called The Rwanda Forest Protection Project.
They will partner to develop both a national conservation park and field station for reforestation and conservation of great apes, including mountain gorillas, which currently number around 700 worldwide.
Under this historic agreement, the government of Rwanda will identify, dedicate and protect in perpetuity a region of ecologically significant size to create the Rwanda National Conservation Park. Earthpark, North America's unique 240-acre environmental center, in partnership with Great Ape Trust, will establish a field station in this park to research and promote reforestation and conservation of great apes. Rwanda is home to two types of great ape - approximately half of the 700 mountain gorillas worldwide and a small population of eastern chimpanzees numbering approximately 500.
Resources for the program will be mobilized from carbon trading and other potential sources in Rwanda. Rwanda has the highest human population density in Africa with about 10 million people living in a country smaller than the state of Maryland (and one-fifth the size of Iowa). These factors have caused acute land and resource scarcity, and resulting pressure on natural habitats.
"We are immensely appreciative of Mr. Townsend's shared passion and commitment to preserve and restore our precious forests that have been destroyed by many factors including deforestation and climate change," according to President Kagame. "We also are confident that this first-ever international project will prevent the extinction of our great apes through Great Ape Trust's world-renowned scientists."
"Our partnership with President Kagame and his country represents a landmark event reinforcing our goal to protect the world's rapidly vanishing forests and natural resources, including great apes, which are critical in educating us about our past and our future," said Ted Townsend, founder of Earthpark and Great Ape Trust of Iowa. "Our 10-year commitment in Rwanda coincides with our goals for Earthpark - within the first decade of operation we expect to have 10 million on-site visitors, 100,000 STEM (science, technology, engineering and math) trained and certified teachers, and up to one billion people reached globally via the Internet."
Earthpark will be an icon of ecological literacy and learning to improve the lives of people, species and the environment around the world. This unique learning campus will demonstrate sustainable and restorative solutions to the myriad ecological threats facing humanity, using state-of-the-art educational tools and online communication with schools, communities and government worldwide. Earthpark will include four acres of tropical rainforest, a 600,000-gallon aquarium and more than 1,000 species of plants and small animals in a re-created ecosystem.
Situated next to 15,000-acre Lake Red Rock near Pella, Iowa, the campus will have prairies, woodlands, trails and campsites coexisting with research labs, a green hotel, retail space, and a green utility infrastructure powered in part by alternative and renewable energy sources. Earthpark will host the first green building simulator in league with the U.S. Green Building Council.
Great Ape Trust of Iowa is a scientific research facility in Des Moines dedicated to understanding the origins and future of culture, language, tools and intelligence. When completed, it will be the largest great ape facility in North America and one of the first worldwide to include all four types of great ape - bonobos, chimpanzees, gorillas and orangutans - for noninvasive interdisciplinary studies of their cognitive and communicative capabilities. Great Ape Trust is dedicated to providing sanctuary and an honorable life for great apes, studying the intelligence of great apes, advancing conservation of great apes and providing a unique educational experience about great apes.

Ted Townsend, founder and president of Townsend Vision, has created three complementary educational and social programs designed to meet the many challenges facing the 21st century. Earthpark, Great Ape Trust of Iowa and the U.S. Center for Citizen Diplomacy resulted from his lifelong interest in conservation, sustainability and restoration. Each program is grounded in science and infuses Townsend's passion to facilitate respectful collaborations with other cultures.