A minor earthquake shook the Adirondack Mountains on Wednesday night.
The 3.2 magnitude temblor, one of several to hit the Northeast recently, happened just before midnight. Its epicenter was about eight miles northeast of Tupper Lake in the central Adirondacks, according to the U. S. Geological Survey Web site.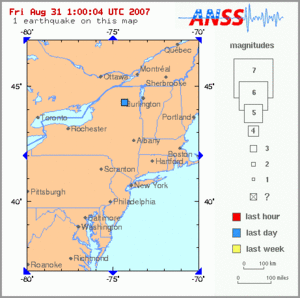 ©USGS
Police had no reports of injuries or damage from the quake.
More people reported hearing the rumble than feeling it.
"It sounded like a sonic boom," Bill Ghent, manager of the Saranac Inn Golf and Country Club, told the Adirondack Daily Enterprise. "I didn't know what it was. I looked out the door but didn't see anything."
"It was a nice little rumble," said Ron Warobick, a Lake Placid resident who was staying at Rollins Pond. He was watching a movie when the room started shaking.
"I knew right away what it was," Warobick said. "We're used to it; it's the Adirondacks."
In the last six months, there have been several earthquakes in the Northeast with a magnitude of more than 3 on the Richter Scale. Two earthquakes with a magnitude of 3.1 struck upstate New York in July. One was 19 miles southwest of Albany. The other was 48 miles northwest of Rochester.