More than 220 people have been killed and 80 are still missing after severe flooding in North Korea, according to Red Cross officials in the country.
The province of Kangwon suffered the highest toll, with 181 confirmed deaths, the International Federation of the Red Cross's Terje Lysholm said.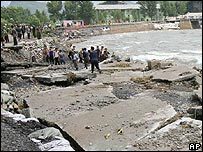 ©Unknown
Many roads have been washed away by the floods
Aid agencies are working with the Pyongyang government to get emergency relief to the many thousands affected.
But power cuts and washed out roads are complicating the aid effort.
The heavy flooding of recent days has left as many as 300,000 people without homes and destroyed one-tenth of the country's much-needed farmland, North Korea said on Wednesday.
International aid workers have been carrying out assessments in the four worst-affected provinces and say the damage is extensive.
In one county alone, near the South Korean border, some 4,500 homes have been completely destroyed, affecting 18,000 people, Mr Lysholm told BBC News.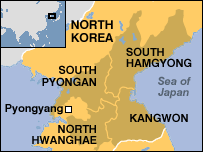 ©Unknown
Many people will have been able to seek refuge in neighbours' homes and in public buildings such as schools and clinics, he said.
"How many people are still completely without shelter at this point is difficult to say, because communication lines are down," he added.
Red Cross teams and other agencies are trying to deliver more than 20,000 tarpaulins, kitchen sets, blankets and water purification tablets to the worst-hit areas.
Aid considered
Terje Lysholm said the assessment teams had confirmed figures of 221 dead and 82 missing in the southern provinces of Kangwon, North Hwanghae, South Pyongan and South Hamgyong.
But it is feared the death toll could rise. Last year's flooding, which affected a much smaller area, killed at least 500 people although the exact death toll was never officially released by the normally reclusive state.
International agencies and governments were also waiting for Pyongyang to confirm what is needed in terms of food aid.
Michael Dunford of the World Food Programme in Pyongyang said they were waiting for the government to finalise its assessment of what is needed and where, so they can start diverting their stocks of food supplies already in the country for emergency use.
South Korea, a key donor of aid to its impoverished northern neighbour, has offered emergency humanitarian assistance.
Japan and the US are also said to be considering what aid to send.
Pyongyang made a rare plea for international help after announcing on Monday that storms since 7 August had led to "huge human and material damage".