HONIARA - A strong 6.7-magnitude earthquake in the Solomon Islands on Thursday caused panic in the capital but there were no reports of casualties or significant damage.
The quake struck at a depth of just 1.8 kilometres (1.1 miles) below the sea and 73 kilometres (45 miles) southwest of Honiara, the capital of the Pacific island nation, the US Geological Service said on its website.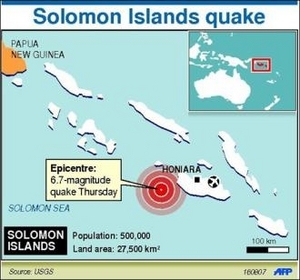 ©AFP
Police and the Solomon Islands National Disaster Management Office in Honiara said there were no reports of casualties or significant damage. They added they were still to hear from isolated villages nearer the quake's epicentre.
Local journalist Evan Wasuka said there was violent shaking for nearly a minute when the quake struck at 7:39 pm (0839 GMT).
"The houses were shaking, people were shouting, there was a bit of panic," he said.
Witnesses said nervous families moved away from the coastline in the capital in the immediate aftermath of the quake.
The western Solomon Islands were hit by a massive 8.0-maginitude earthquake and tsunami on April 2, leaving more than 50 dead and thousands displaced.
The Pacific Tsunami Warning Center in Hawaii did not issue a tsunami warning following the latest quake, saying there was no real risk of a widespread destructive tsunami, but warned that local tidal waves were possible.
"Earthquakes of this size sometimes generate local tsunamis that can be destructive along coasts located within a hundred kilometres of the earthquake epicentre," it said.