Depending upon who's talking, this year's fire season has already passed by the 2000 and 2003 seasons as the worst since 1910.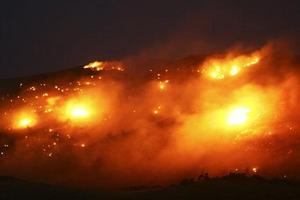 ©David Erickson / Whitefish Pilot
Scattered flames mark the eastern boundary of the Skyland Fire near the town of Heart Butte on the Blackfeet Indian Reservation on Aug 1 just after midnight.
That supposition is based on where the state is now with maybe one more month of fires ahead before a good rain or snow finally extinguishes the fires for good.
To make matters worse, seven new lightning-caused fires were detected Tuesday in the Swan Lake area, despite a light rain.
Firefighters quickly pounced on them, and Forest Service officials said they were contained to less than two acres.
In the worst case scenario posed by some firefighters, the raging Chippy Creek Fire, which exploded across 29,000 acres on a windy Saturday and now may be the largest wildfire in Montana, could burn all the way to the Brush Creek Fire west of Whitefish -- crossing U.S. Highway 2 at Marion and covering about 50 miles.
On Monday, the Chippy Creek Fire jumped the Little Bitterroot River and meager fire lines west of Niarada, despite the efforts of retardant bombers and helicopters. Now burning about 26 miles southwest of Kalispell, predominant winds could push the fire into thousands of acres of thick dry timber north and east.
With more than 50,000 acres burned by presstime, 232 firefighters were assigned to the Chippy Creek Fire, and more than $1.5 million had been spent. The fire was reportedly 5 percent contained but was threatening 50 homes near Hubbart Reservoir.
The number one fire in the nation is no longer the Skyland Fire burning south of U.S. Highway 2 near Marias Pass -- it's the Jocko Lakes Fire. The fire started for unknown reasons on Friday and ran across 18,000 acres over the weekend, threatening the resort town of Seeley Lake.
At least 675 homes in the Placid Lake area and along Highway 83 south of Seeley Lake were evacuated as the Jocko Lakes Fire closed in on a town built in a tight canyon between the forest and the lake.
One home and seven outbuildings were reported destroyed, and a Type 1 incident command team was ordered in. Calmer weather and aggressive firefighting efforts kept the fire from rapidly expanding on Monday.
Recreation craft were ordered off Seeley Lake so airborne tankers could scoop up water to dump on the fire, but the water supply in the town was threatened as homeowners using sprinklers competed with firefighters filling up tenders.
All told, about 1,500 homes are threatened by the Jocko Lakes Fire, which had burned 15,000 acres by presstime and had cost nearly $1 million to fight. Gov. Brian Schweitzer made two helicopter flyovers to show his concern.
The Brush Creek Fire grew to more than 22,000 acres since the weekend, triggering evacuation points for Good Creek at 6:30 p.m. on Monday. At that point, the fire was about 7 percent contained.
Nearly 400 firefighters were assigned to the fire, with more than $2.5 million spent. A heavily-equipped Type 2 incident team from Florida moved their base over the weekend from Star Meadows to Farm to Market Road.
The lightning-caused Brush Creek Fire started July 26. The Flathead County Sheriff's Office issued an evacuation order for the Star Meadows area late Friday, and the fire doubled its size that night. It grew another 3,000 acres on Tuesday.
Fifty homes and structures were threatened, and some homes were coated with flame-retardant foam. A steady stream of trucks and trailers hauled livestock and personal property to safer locations. But many people wanted to stay. In one case, carpenters continued to frame a new home at Star Meadows while firefighters foamed it down.
Up on the Continental Divide, the Skyland Fire has grown to nearly 37,000 acres with more than 900 firefighters assigned. By presstime, the fire was reportedly 40 percent contained and firefighting costs had exceeded $5.5 million.
A burn-out effort on Aug. 2 using "ping pong balls" dropped from helicopters had mixed results, with some areas not igniting well. Winds picked up the next day, and the fire made a 5,000-acre run to the northeast, heading for Heart Butte.
Firefighters prepped a dude ranch with sprinklers, foam and fuel-reduction work. All the structures there survived the fire, which was 19 miles long by that time, triggering evacuation orders in the Heart Butte area. U.S. Highway 2, which was closed July 28, has been kept open with speed restrictions.
Winds on Sunday helped firefighters with a successful burnout in the South Fork of the Two Medicine River drainage. About 35,000 gallons of retardant was dropped by heavy helicopters in support. Ranchers were allowed to retrieve cattle north and south of the fire.
The Forest Service's Badger Cabin was wrapped with foil as the Skyland Fire moved into the Deep Creek drainage on the Blackfeet Indian Reservation.