Roofs, windows and vehicles were damaged -- and a horse was killed -- as a severe thunderstorm coupled with high winds and hail the size of softballs drove across a large swath of southern Manitoba yesterday and Thursday night.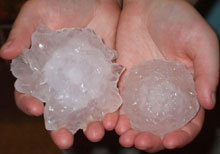 ©Bev Birss
Hailstones measuring as large as 10 centimetres in diameter fell on Dauphin, Man., during the late-evening storm.
The storm left thousands of people without power, closed a provincial park and two golf courses near Winnipeg, forced campers at the Birds Hill Provincial Park to flee their tents, and knocked over thousands of trees.
Diane South, of Vivian, said her 20-year-old horse, Lady, was found dead, wrapped around a tree.
"She was in the pasture and I think she must have got spooked and got caught by the wind as she was heading for the trees," South said.
Dauphin is believed to have received the most severe hail damage, but Environment Canada also reported hail in parts of Winnipeg, Birds Hill and Oakbank last night.
Steinbach and La Broquerie were also reported as getting nickel-sized hail yesterday morning.