Bulusan Volcano rumbled to life anew Tuesday, sending an ash plume as high as five kilometers high into the Sorsogon sky.
©AP
A column of ash and volcanic debris shooting up from the Mt. Bulusan volcano in the central Philippines on Tuesday.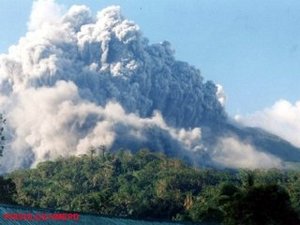 ©Phivolcs
A Bulusan ash explosion seen at 16:17 on 31 May 2006.
he Philippine Institute of Volcanology and Seismology (Phivolcs) reported that Bulusan's latest volcanic activity was recorded at 9:37 a.m.
Bella Tubianosa, Phivolcs Sorsogon resident volcanologist, said it was the biggest so far, reaching a height of at least 5 kilometers before drifting towards northwest.
DepEd Superintendent Lorna Dig-Dino ordered the suspension of classes in all affected areas to get students and children to safety.
Winds were blowing west-southwest and west-northwest towards the towns of Juban and Irosin, Phivolcs in Manila said.
In a television interview, Phivolcs Director Renato Solidum said that, "If there are heavy rains on the slopes of the volcano especially on the western side, people should stay away from the river channels of the volcano."
He added that Phivolcs will continue to monitor the volcano, noting that, "The data we gathered indicate that possible explosions will be like the one this morning or the previous explosions."
However, Solidum added that he "does not see" a need to consider the current situation as hazardous.
A four-kilometer permanent danger zone remains in effect near the volcano, which is still under Alert Level 1 as of posting time. Alert Level 1 means there is a possibility of an upcoming stronger eruption.
Phivolcs resident volcanologist Bella Tubianosa told dzBB radio in Filipino that, "We have not totally lifted the Alert Level warning because we have continued to record volcanic quakes."
Asked when Bulusan might erupt, Delia Tubianosa said that, "We cannot give an exact time, but we have been giving alerts on the volcano. That's why we can expect sudden ash explosions in the coming days."
Last May, Bulusan Volcano continued to show increasing activity, causing no less than 56 volcanic quakes in a span of 24 hours.
Phivolcs said the quakes were accompanied by steaming activity that rose 50 meters high and blew southwest of the volcano.