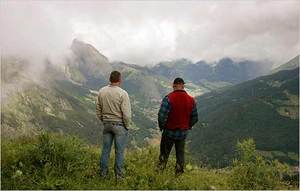 ©AP Photo/Laurent Cipriani
Muddy slopes, slushy peaks and unused lifts have put an end to the French ski resort of Abondance
ABONDANCE, France: Muddy slopes, slushy peaks, unused lifts - this town in the French Alps is living out the nightmare of many a ski resort in a century scientists say is doomed to keep getting warmer.
The city council of Abondance - its name a cruel reminder of the generous snowfall it once enjoyed - voted last month 9-6 to shut down the ski station that has been its economic raison d'etre for more than 40 years. The reason: not enough snow.
Abondance is the French Alps' first ski station to fall apparent victim to global warming. It will almost certainly not be the last.
At 930 meters (3,051 feet), this station between Mont Blanc and Lake Leman falls in the altitude range climate scientists say has seen the most dramatic drop in snowfall in recent generations.
The Alps as a whole, which pull in about 70 million tourists every year primarily for winter sports, are "particularly sensitive" to climate change, according to a study last winter by the Organization for Economic Cooperation and Development.
It calls climate change a serious threat to Alpine ski resorts and the regional economies that depend on them. The most recent World Cup ski circuit was badly hit by lack of snow, with several races in the Alps - even at high altitudes - called off.
Last week, a commercial court in Lyon put the Transmontagne company, which operates mid-altitude resorts in France, Switzerland, Italy and Slovenia, under bankruptcy protection for the next six months. Warming weather is seen as a key reason for its financial woes.
Abondance's troubles are alarming towns in the surrounding valleys. Homeowners fear a crash in housing prices. Neighboring La Chappelle-d'Abondance is considering changing its name to dissociate itself from the shutting station.
Abondance Mayor Serge Cettour-Meunier fears that the closure of his station is the start of a troubling trend. "Skiing is again becoming a sport for the rich," since only elite high-altitude resorts will have sufficient snowfall, he said.
The €2.2 million (US$3.03 million) annual economy of his town and its 1,300 residents centers around winter sports. Last year, the lifts suffered a loss of €640,000 (US$882,000).
"The town can no longer pay," he said.
Gerald Giraud, engineer at the Snow Study Center of Meteo-France at Grenoble, predicted Abondance's snowfall woes are likely to worsen.
"The 900-1500 meter range is the one where global warming will pose the greatest problems," he said.
Even taking into account irregular weather cycles, snowfall levels fell 64 centimeters (25.2 inches) on average between 1960 and 2007 across the French Alps, he said.
His center noted a rise in average temperature of 1.5 to 3 degrees C (2.7-3.3 F) over the Alpine ranges since the early 1980s.
The OECD report said warming in the Alps in recent years has been roughly three times the global average.
"Climate model projections show even greater changes in the coming decades, with less snow at low altitudes and receding glaciers and melting permafrost higher up," it said.
For geographic and geological reasons, Germany is likely to suffer the most from climate change, while Switzerland is the least at risk, the report said. Austria and Italy are slightly more sensitive than average, while France has average risk, based on climate studies and projections.
The report studied only the Alps but noted that its implications extend "to other mountain systems which may face similar ... challenges, for example in North America, Australia and New Zealand."
Investors are not ready to write off Alpine ski resorts yet, noting how unpredictable weather-dependent investments are.
"We remain calm, one shouldn't overstate the phenomenon," said Georges Gay-Lancernin, of Credit Agricole de Haute Savoie, one of the chief banks financing France's mountain economy. He said the bank had no "general position about stations at mid or high altitude, but conducts studies on a case-by-case basis."
Nevertheless, small stations are having increasing difficulty finding investors.
Saint-Pierre-de-Chartreuse, at 900 meters (2,952 feet) sought public funding to upgrade one of its lifts. The improved lift, ready for the 2006-2007 season, didn't budge all winter because there was not enough snow.
In Abondance, where snow fell only 20 days last year, town officials have been seeking private buyers for the station for several years. Transmontagne and Remy Loisirs expressed interest, but never followed through, the mayor said.
The regional council for the Haute Savoie region refused the mayor's request for aid, deeming the station no longer profitable.
The news of the closure has hit hard in this town that has revolved around the ski station since 1964. Sporting good stores and restaurants specializing in local cheese dominate the town's main street.
"The mayor made a courageous, realistic and calm decision," said retired dairy farmer Andre Gagneux.
Restaurant owner Marie-Jane Teninge, 61, disagreed, blaming "bad management" for the station's troubles.
"I am skeptical about global warming. It's just a matter of cycles," she said, adding that she was ready to pay more taxes to keep the station open.
Jean-Charles Simiand, president of the French national union for ski lifts and cable cars, noted that the lifts are used today for hikers and mountain bikers in summer, but that the activity accounts for just 3 percent of overall lift revenues.
"The mid-altitude stations must adapt," he said. "Diversification of the economy is possible, but so far no one has found an activity that can substitute for skiing."