Up to 100,000 households and businesses were without power in the north of the country tonight following stormy weather which also caused flooding, slips and road closures.
The Far North district declared a state of emergency after widespread rain and strong winds caused damage on a par with what the region suffered in March.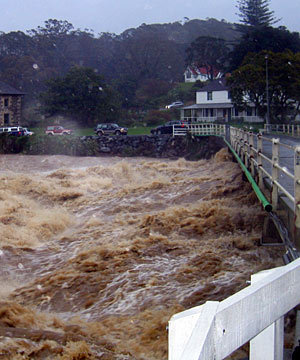 ©Signs of the Times
The Kerikeri River rages under the Stone Store bridge as emergency plans are put in place to save historic treasures at the Stone Store and Kemp House.
Whangarei District also suffered during the afternoon, and by the evening the storm was beginning to wreak havoc on Auckland and the Coromandel Peninsula.
Numerous roads were closed in Northland and several emergency centres set up, and forecasters predicted the storm wouldn't subside until tomorrow morning.
Far North Mayor Yvonne Sharp declared an emergency about 4.30pm today aft er predictions that the storm which doused many areas with more than 200mm of rain would not stop overnight.
Kaeo appeared to suffer most, 254mm of rain tumbling down between midnight and 3.30pm today. More than 20 homes were believed to have suffered flooding.
Kaeo residents reported up to 1m of water running through the town, but many had heeded the weather warnings and left the area.
"Given the floods we had in March, people were slightly better prepared and slightly more gunshy of the weather," Constable Daniel Cleaver of Kaeo police said.
"A lot of people who got flooded last time are this time not in their homes, they've gone somewhere else."
Road closures meant Kaeo was cut off, as was Pawarenga, Horeke, Mitimiti, Mangamuka and Rahiri.
The bad weather was expected to last until 6am tomorrow.
"We're bracing ourselves and expecting things to get worse," Whangarei District Council spokeswoman Ann Midson said.
A storm-swollen Kerikeri River was raging within metres of the town's historic Stone Store.
Kerikeri resident Angelika Salmen said the river during the March floods was higher at this stage but during those floods residents did not have to contend with gale-force winds which were today excaberating the situation.
Far North District Council communications officer Alison Lees said there was also a risk of sewage overflow in Russell, Rawene, Opononi, Kohukohu and Hihi.
About 3000 homes were without power in the Far North, and more were believed to be without power in the Whangarei district.
Whangarei Hospital also had power problems and was this afternoon using an emergency generator. In addition, phone connections to the region were being interrupted.
Numerous roads were closed throughout the Far North and Whangarei Districts by flooding, slips and downed trees, including State Highway 10 at Kaeo, State Highway 12 at Mangatoa and State Highway 1 at Rangiahua, Mangamuka Rd, Kamo Bypass and Poerewa Otiria Stream Bridge.
Welfare centres were due to be set up at the Kerikeri, Paihia, Kawakawa, and Kaikohe St John Ambulance Centres. Another is based at the Opononi Fire Station.
By 7pm the storm had made its way south to Auckland, blacking out many more households. Vector Energy spokeswoman Denise Bailey said 65,000 customers were without power in the Rodney district, between Wellsford and Orewa, and about 25,000 were without power on the North Shore.
There were several reports of uprooted trees and flying debris and a number of boats blown from their moorings on the Waitemata Harbour.
Lights on the Auckland Harbour Bridge were out and traffic delaya were worsened when the median lane barrier was knocked out of alignment.
Police said wind also wreaked havoc in downtown Auckland.
"There are some corrugated sheets of metal blowing down 14 stories from the Rydges Hotel," Senior Sergeant Matt Rogers of Auckland Police said.
"It's lucky nobody has been killed or injured to be honest."
Graeme MacDonald, of the Northland Civil Defence Emergency Management (CDEM) Group, said in a statement the deluge over Kaeo is roughly double that of the Mangamuka area, which had recorded the next highest rainfall over the same period; 112mm.
According to CDEM, 171 mm of rain has fallen on the Kaeo area in just under 11 hours since midnight last night.
It says widespread flooding is expected if the rainfall continues, as predicted by the MetService.
They say the intensity of the rain could see flooding and other damage exceed the March storm.
Many parts of Northland are also getting damaging wind gusts and Civil Defence is now telling people to delay all non-essential travel.
The MetService says up to 250mm of rain could fall in parts of Northland over the next 24 hours, especially about the central and eastern hills.
The railway line north of Wellsford was closed.
Metservice said it expected a further 70-100mm of rain in Northland between now and 3am tomorrow.
Coromandel was also expected to get a deluge, with 120-150mm of rain expected overnight.
Winds in excess of 140kph were also expected overnight in Northland, Auckland and Coromandel.
The Hauraki Plains in the Waikato may also experience gusts of 120 km/h in exposed places between midday and midday Wednesday.
MetService says these conditions are likely to lead to surface flooding, slips and cause streams and rivers to rise rapidly, especially in parts of Northland.