Estonians took gold and silver at the world wife-carrying championships in Finland on Saturday, defying rain and exhaustion to stumble along a path with women clinging upside-down to their backs.
They were among 44 couples from 12 countries competing in the annual event in Sonkajarvi, central Finland.
The race, held for the 12th time, is intended to evoke the spirit of a legendary Finnish brigand, Rosvo-Ronkainen, who made those who wanted to join his gang run through a forest carrying heavy sacks on their backs.
In the modern version, couples race along a 250-metre track, tackling a pool and several hurdles, with the men carrying the women on their backs.
Estonian Madis Uusorg finished first, in a time of 61.7 seconds, despite having Inga Klauson on his back upside-down with her legs around his neck.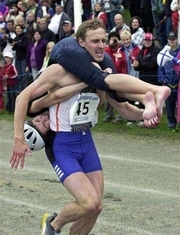 ©Reuters
Estonia's Madis Uusorg carries his wife Inga Klausen to win the Wife carrying World Championships.
Madis Uusorg is the brother of last year's winner, Margo Uusorg, who holds the world record for the event of 56.9 seconds.
"I'm feeling really great because we won," Madis said afterwards. "It was my fifth time here, second time to win this competition. And it was the first time to beat my brother!"
Margo won his fifth world championship in 2006 and said at the time it might be his last.
He could not resist turning up again this year, carrying a rather heavily built Julia Galvin from Ireland, but the pair could only manage 29th place.
"I kept my promise, having won last year, of carrying Julia this year," he said.
John Keerie, a Briton living in Helsinki, ran the race dressed as convict. He carried his wife Aino Telaranta-Keerie into 19th place.
"I drowned in that pool, but at least my wig is still in place. Now for beer," he said.
The winning couple received plasma televisions and Klauson's weight, 49 kilograms, in beer.
"My goal was to have fun. But not only did we have fun, but so did our kids and the people here had fun," said American James Lafferty from Ohio, who carried his wife Susan into 33rd place.
The purpose of it all? So the town of Sonkajarvi can spread a little happiness, said organiser Veikko Tervonen, with a smile.