A powerful earthquake shook Guatemala on Wednesday, U.S. seismologists said, but there were no immediate reports of damage or injuries in the capital.
The magnitude 6.8 earthquake struck at 1:29 p.m. local time (3:29 p.m. EDT) and was centered 70 miles southwest of Guatemala City off the Pacific coast, according to the
U.S. Geological Survey (USGS).
Firefighters in Guatemala City said they had no immediate reports of injury or damage.
Radio Sonora reported that houses were damaged along the Pacific coast, with mudslides in several areas. But firefighters in several coastal communities, including Santa Rosa and Escluintla, told The Associated Press they had received no reports of damage.
The quake was felt in neighboring El Salvador, where people ran into the streets in the capital of San Salvador.
Carlos Lopez, a spokesman for the Red Cross in El Salvador, said there were no immediate reports of major damage in that country.
The region is prone to earthquakes. One of Guatemala's most devastating quakes was in 1976 when nearly 23,000 people died.
---
From USGS
:
Region: NEAR COAST OF GUATEMALA
Geographic coordinates: 13.628N, 90.731W
Magnitude: 6.8 Mw
Depth: 64 km
Universal Time (UTC): 13 Jun 2007 19:29:46
Time near the Epicenter: 13 Jun 2007 14:29:46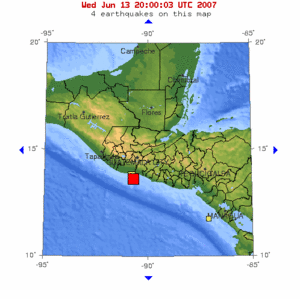 ©USGS
Location with respect to nearby cities:
75 km (46 miles) S (176 degrees) of Escuintla, Escuintla, Guatemala
84 km (52 miles) SSE (159 degrees) of Santa Lucía Cotzumalguapa, Escuintla, Guatemala
86 km (53 miles) SSW (212 degrees) of Cuilapa, Santa Rosa, Guatemala
101 km (63 miles) S (189 degrees) of Villa Nueva, Guatemala, Guatemala
114 km (71 miles) SSW (192 degrees) of GUATEMALA CITY, Guatemala