Floods in Yakutia's village of Ytyk-Kyuel recede, but 543 houses remain flooded, an official of the republic's Emergencies Ministry department told Itar-Tass on Sunday.
The level of water in the Yakutian Tatta River decreased by 8 centimetres.
"Blasting works of June 8 deepened and enlarged the riverbed for floods to ease," the source said.
On May 18, around 895 houses, administrative buildings and power supply lines were flooded. Floods destroyed bridges and dams. Rescue workers evacuated 3,000 local residents.
Ytyk-Kyuel and other villages on the banks of the Tatta River are cut from the capital of Yakutsk, as all roads get washed away.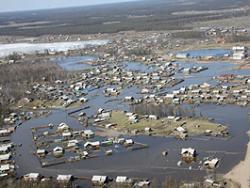 ©unk
According to the Transport Ministry of Yakutia, 480,000 cubic meters of construction materials will be needed to rebuild the roads.
A pontoon ferry will be built across the Tatta River to ensure supplies of food and other goods.
According to preliminary estimates, 14,000 people were affected by floods all over the republic. Damage inflicted is estimated at 700 million roubles.