At least nine people have been killed by heavy storms that are continuing to lash eastern Australia, officials say.
Gale-force winds and rising flood waters have forced the evacuation of thousands of people in New South Wales.
More than 130,000 homes remain without electricity around Newcastle and in Sydney.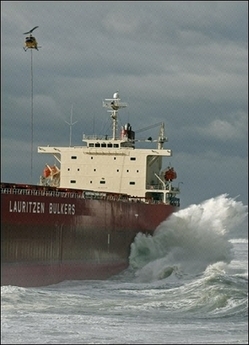 ©AFP/Torsten Blackwood
A helicopter lowers salvage equipment to the 'Pasha Bulker' which ran aground in wild seas near Newcastle. Rescue workers are urging thousands of people to evacuate their homes after deadly storms lashed Australia's east coast.
A severe weather warning remains in place, with winds gusting up to 90km/h (60mph), Australian weather officials said.
The death toll rose to nine on Sunday after police found the body of a man who had been swept into a storm water drain near Newcastle.
Among the dead were five members from the same family, including three children.
The family's car was swept away after part of the Old Pacific Highway collapsed on Friday - when the storms began.
Police said earlier they had found the bodies of a couple in their 50s whose car was washed off a bridge in the Hunter Valley.
A 29-year-old man was killed when a tree fell on to his vehicle near Newcastle.
Local residents said that the storms continued to wreak havoc.
"Things were literally flying past the house," Nick from Newcastle told the BBC News website.
"I went to the main street at about 0400am and it was like a screen from a zombie movie: cars were in the middle of the street, buildings had caved in and there was no light and no-one else around," he said.
On Sunday, some 5,000 residents in the Hunter Valley were ordered to leave their homes amid fears that the Hunter River would breach its levee within hours.
In the Newcastle suburb of Wallsend, where 200mm of rain fell in a few hours, state premier Morris Iemma warned that the risk was not yet over.
On Friday, massive seas pushed the Pasha Bulker coal freighter onto a sand bank off Newcastle.
Salvage crews hope to refloat the ship once conditions ease.
The tanker's 21 crewmen, all thought to be from the Philippines, were winched to safety and were reported to be in good health.