Officials: Underwater volcano triggered column of steam to rise from ocean
Japanese coast guard officials said Sunday they believe an underwater volcanic eruption has caused a 3,300-foot high column of steam to rise from the Pacific Ocean near Iwo Jima.
The vapor was reported Saturday after Japanese troops stationed on the small island observed the massive, cloudy plume rise from the sea about 30 miles southeast of the island, said Maritime Self-Defense Forces Hiroshi Shirai.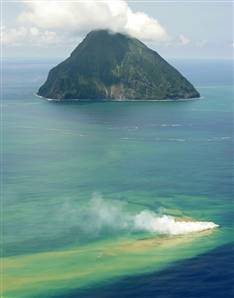 ©Kyodo / Reuters
An aerial view of an eruption of the underwater volcano is seen in the Pacific Ocean near Minami Iwo Jima island on Sunday
Defense officials who flew over the area in a helicopter said the surface of the water appeared red where the column was reported, which could indicate underwater volcanic activity, Shirai said.
On Sunday, coast guard aircraft crews flew over the site and returned with a video image confirming the earlier reports, said Shigeyuki Sato, a spokesman for the service. The survey crew also found grayish mud rising up from the bottom of the ocean, but it was not immediately known whether any volcanic gases are being released.
The location is known as Fukutokuoka-no-ba, an undersea volcano which last erupted in 1986 for three days, Sato said.
The coast guard aircraft ended the day's survey after less than two hours due to safety concerns, but plan to return to the site as early as Monday for further monitoring. The service issued an international warning for vessels, urging them to stay away from the waters.
Japan's Meteorological Agency said there was no danger of tsunamis, sometimes caused by undersea seismic activity. Iwo Jima is about 700 miles southeast of Tokyo.