Weekend storms that swept through Kansas claimed the life of a 10th person, the Kansas Emergency Management Agency said Sunday.
The National Weather Service said Sunday that more than a dozen new tornadoes have been reported in the area where the tornado caused its heavy damage Friday.
An overnight storm killed a person at a camper at a small Ottawa County lake, 10 miles north of Bennington in north-central Kansas, which was damaged by high winds and a possible tornado, said Sharon Watson, spokeswoman for the Kansas Emergency Management Agency. She did not know the age or gender of the victim. Three other people in the camper were injured.
In this south-central Kansas town, searchers resumed their work after daylight Sunday, looking for anyone who might have been trapped by the Friday tornado.
"At this point, it's still a search and rescue mission," said Kansas state trooper Ronald Knoefel said. "We don't want to give up hope."
Greensburg remained off limits to its residents Sunday morning. Knoefel said a storm system that went through the area late Saturday blew debris from Friday night's tornado back into the streets.
"We'll let people back in when it's safe," Knoefel said.
That second round of severe weather late Saturday brought another wave of tornadoes across the Plains, with numerous tornadoes reported from South Dakota south into Oklahoma.
Bush pledges federal support
President Bush declared parts of Kansas a disaster area, freeing up federal money to aid in recovery.
"It's going to take a long time for the community to recover," Bush said Sunday, referring to Greensburg, after attending a morning service at a church in Washington. "And so we'll help in any way we can."
"There's a certain spirit in the Midwest of our country, a pioneer spirit that still exists, and I'm confident this community will be rebuilt," Bush said.
Sen. Sam Brownback and Gov. Kathleen Sebelius planned to tour the storm-damaged area Sunday.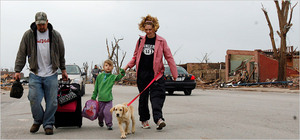 © G. Marc Benavidez/The Wichita Eagle
Mike and Jessica Sutton and their daughter, Aryca, evacuated Greensburg, Kansas, after a tornado leveled about 90 percent of the town and killed numerous people.
"We need support," said Greensburg Administrator Steve Hewitt. "We want everybody to know this is a huge catastrophe."
Kansas Adjutant Gen. Tod Bunting told CNN on Sunday that in some places searchers looking for survivors have to deal with rubble that is 20 to 30 feet deep.
"We're not going to rest until we know for sure," he said.
Among the few structures that survived was the Bar H Tavern. It was briefly converted into a morgue. Command operations for rescue efforts were moved into the town's courthouse, which was damaged but also still standing. The massive concrete silos of a grain elevator still towered over what was left of the town.
All churches destroyed
All the churches were destroyed. Every business on main street was demolished. The town's fire engines were crushed and other crumpled vehicles were thrown around. Tree trunks stood bare, stripped of most of their branches.
The fate of the town's claim to fame - the world's biggest hand dug well - was unknown because it was buried under a mountain of debris; the gift store at the well had disappeared.
For decades, meteorite hunters from throughout the world have been drawn here to hunt for meteorites. The town's extensive meteorite collection, including one weighing 1,000 pound, was one of the casualties of the storm.
"It is very scary right now," said Hewitt, who lost his home in the storm.
Hewitt estimated 95 percent of the town of 1,500 was destroyed and predicted rescue efforts could take days as survivors could be trapped in basements and under rubble.
"This is one of the most devastating tornadoes we have had in Kansas," said U.S. Rep. Jerry Moran.
'All of Main Street is gone'
At a shelter in neighboring Haviland, Cheryll Behm said her home in Greensburg is probably repairable, unlike the rest of the town.
"I am concerned Greensburg never will be built," said Behm, a nurse's aide at the Greensburg hospital. "There is no place to go back to work to. All of Main Street is gone."
Scores of injured people were sent to hospitals as far away as Wichita, 110 miles away.
The twister that struck Greensburg late Friday was part of a storm front that spawned tornadoes along a line stretching northeast from Greensburg through central Kansas. At least seven more tornadoes were reported late Friday and Saturday in Illinois, Oklahoma, South Dakota and Nebraska, though damage was minimal, officials said.
The tornadoes that came with the second round of storms late Saturday in Kansas damaged outbuildings and homes and downed power lines. Those storms also brought heavy rain that caused flooding concerns in some areas, said Sharon Watson, spokeswoman for the Kansas Adjutant General's Department.
A tornado Saturday in Oklahoma caused at least one injury in the small town of Sweetwater and damaged the high school, authorities said.