You are a political leader. Your country and people have been subjected to long years of occupation and brutality by a foreign power. Your people are suffering horribly, they are being summarily executed, tortured and generally tormented by the forces of occupation who enjoy complete control over your land. Despite this, you manage to hold things together - just. You manage to buy some weapons to protect your people and you, like your countrymen and women, still burn with the desire for freedom.
What's your strategy?
Appeal to the international community?
Raise awareness of the injustice of the occupation?
Defend your people and their livelihoods at every opportunity?
Take offensive action against the invaders?
All of these tactics and more have been used over the years by occupied peoples. They are an obvious, logical and natural response by any group of indigenous people to oppression at the hands of an foreign power. But not in Palestine. Not if you are a member of Hamas or Fatah. Or so we are meant to believe.
No sir! If you are a Palestinian, your special tactic to rout the forces of the enemy is to attack and kill your fellow Palestinians.
Makes complete sense, right?
Three days ago, more "infighting" broke out between Hamas and Fatah, or so the mainstream media would have us believe. Those Palestinians you see, they aren't like you or I. You or I would unite together and attack the enemy that had invaded our country. The Palestinians? They attack each other.
No one knows why, they're just different. Stupid I suppose.
Maybe it's true what so many Zionist leaders have said, maybe the Palestinians are more animal, more "cockroach", than human. What other reason can there be for their apparent desire to attack each other than the obvious enemy - the murderous IDF? If you still need convincing, just take a look at the news reports from the last few days:
Unknown Gunmen attack a Palestinian minister's car in northern West Bank

March 10, 2007
IMEMC & Agencies



Unknown Gunmen

opened fire at the car of Hamas Cabinet minister Wasfi Kabha while going to a ceremony in Tubass city in then northern part of the West Bank on Saturday midday.

No injures were reported in the shootout,

which came a day before Palestinian President Mahmod Abbas meeting with Prime Minister Ehud Olmert.



Palestinian sources reported that minister Kabha was traveling to a ceremony in Tubas city when his car was stopped at a nearby village by three gunmen; the gunmen opened fire, hitting the vehicle four times. Palestinian security forces in its part rushed to the scene, and an exchange of fire ensued. The three gunmen then fled the scene.

The ceremony, where Kabha and another minister planned to dedicate a new Education Ministry building, was canceled due to the attack.

Unknown Attackers Storm a Local University in Gaza

March 10, 2007
IMEMC & Agencies



Unknown attackers

stormed Saturday the Al-Quds University of Gaza and opened fire inside, Palestinian media sources reported.

Member of the university's Students Council, Mohammad Helles, was shot and wounded in the attack.



From time to time, internal unrest continues to hit different parts of the Gaza Strip

despite agreement by Fatah and Hamas to end infighting and form a power-sharing unity government.



Internecine infighting over the past few months have claimed lives of more than 130 Palestinians and wounded hundreds others.

Unknown gunmen destroy two shops in Gaza

March 10, 2007
IMEMC & Agencies



Unknown gunmen

attacked and destroyed two shops in the eastern part of the Gaza strip, one civilian was injured on Saturday morning.

One of the shops is located in Al Shuga'ia are in the eastern part of Gaza city and belongs to Mo'een Al Sawaf, according to security sources the explosion demolished the shop, and added that an investigation was initiated of the attack.

1 Killed in Palestinian Shootout in Gaza

Sunday March 11, 2007
Associated Pres

GAZA CITY, Gaza Strip - Palestinian gunmen from Hamas and Fatah exchanged fire in the Gaza Strip early Sunday, killing a local militia leader and wounding seven people in the most serious flareup of violence since a power-sharing deal between the political rivals last month.

Both sides blamed each other for starting the battle in the northern town of Beit Hanoun.

Hamas said

a truckload of Fatah gunmen

opened fire on the militant group's forces near the town's sports club, killing a Hamas field commander, Mohammed Kafarneh.

Fatah said the shooting began when Hamas attacked a compound of the security forces with rocket-propelled grenades.

Later, Hamas and Fatah gunmen also exchanged fire for a few minutes in Gaza City.

Sunday's death was only the second since last month's Saudi Arbaia-backed Hamas-Fatah cease-fire

which cleared the way for talks on setting up a Hamas-Fatah coalition government.

[...]



With the Hamas-Fatah coalition not yet established, little progress was expected at a meeting Sunday between Abbas and Israeli Prime Minister Ehud Olmert.

[...]



Abbas will ask Olmert to halt Israeli military operations in the West Bank,

as part of an effort to broaden an informal cease-fire, in place in Gaza since November, Erekat said.



Who's Behind The Mask?


Hamas militant shot dead in Gaza

BBC News
11/03/2007

A commander of Palestinian militant group Hamas has been killed during a gun battle with rival faction Fatah in the northern Gaza Strip.

It is the first such fatality since a Saudi-mediated ceasefire between the groups was signed a month ago.

The man was killed in the town of Beit Hanoun after a shoot-out between the two factions.

Each side blamed the other for starting the violence, which shook the town with mortars and rocket-propelled grenades.

Ambush claim



The clashes happened just hours after Prime Minister Ismail Haniya of Hamas said the members of a newly-agreed unity government would be announced in the coming days

.

The Hamas fighter killed was identified as Mohammad al-Kafarna, a member of the group's Executive Force.

Hamas said that he was killed after Fatah fighters ambushed the vehicle he was travelling in.

But a Fatah spokesman said that shots had initially been fired by Hamas gunmen on a car carrying members of the al-Aqsa Martyrs' Brigade.



The agreement between the two groups, signed on 8 February in the Saudi city of Mecca, had brought a fragile end to factional fighting, which has claimed more than 90 Palestinian lives since December.



Suspicious Group Accused of Killing Hamas Member

www.chinaview.cn
2007-03-11

GAZA -- Cautious calm has returned in the Gaza Strip on Sunday following a night of clashes between militants from the rival factions of Hamas and Fatah.

Security forces were deployed on Gaza city streets and the scene of last night's clashes, northern Gaza Strip town of Beit Hanoun.

The clashes sparked when unknown gunmen shot dead a Hamas militant in Beit Hanoun after midnight,

after which Hamas accused "a suspicious group" of being behind the killing of 36-year-old Mohamed Jaddallah.
Hmmm...things are starting to get a little foggy here. All of the above makes it sound like neither Fatah nor Hamas have any idea exactly who is carrying out these attacks, and are blaming each other, or assigning responsibility to unknown "suspicious groups". I wonder who they might be...
Palestinian police fire on undercover IDF unit in Bethlehem

Ha'aretz 11/30/2005

Palestinian policemen opened fire at undercover Israel Defense Forces soldiers during an operation in Bethlehem yesterday. No soldiers were hurt during the incident, and the IDF said its inquiry revealed that no policemen were hurt. However, the Palestinians said one policeman was wounded. According to the army's initial inquiry, the Palestinian police had not been informed about the army operation.

Thus, when the soldiers,

who were disguised to look like Arabs

, came to arrest a wanted man not far from City Hall, the policemen

took them for members of an armed Palestinian gang.
Undercover Israeli force abducts a Palestinian child from Bethlehem



Undercover Israeli forces in Action - 2006


An Israeli army undercover force abducted a Palestinian child on Monday midday from the southern West bank city of Bethlehem.

Eyewitnesses stated that

undercover Israeli masked soldiers using a civilian car

sped to the entrance of Duhisha refugee camp located on the eastern side of Bethlehem.

Hamza Hmamda, 16, was standing at the camp entrance when the force took him by suprise then forced him into the car. He was taken to a nearby Israeli military base just outside the city.
Then, Rima Merriman, a Palestinian American living in Ramallah, in her series, '
Portraits of Palestinian Resistance
', tells us:
Israel's control of and entrenchment in the West Bank and Gaza Strip,

its continual attempts to stamp out Palestinian resistance to the occupation at any cost, relies heavily on intelligence gathered by Shabak, the 5,000-strong Internal General Security Service of Israel, whose motto is

"Defender who shall not be seen".





With a cadre of well-trained, Arabic-speaking Israeli informants who are indistinguishable physically from the Palestinian population, Shabak has little problem gathering intelligence on a people whose every movement is regulated by hundreds of check points and by total Israeli control on their borders. These infiltrators prey on Arab innate hospitality and friendliness.

The Palestinians call them "musta'ribeen", i.e., "those who appear to be Arabs". Palestinians are not surprised when someone, somewhere comes up to them and says: Got you!
Two days after these most recent "factional clashes" in Palestine, the Mr Magoo of the "Islamic terror" world Ayman Al-Zawahiri
popped his head out of some Mossad-owned massage parlour in Tel Aviv
to slam Hamas for not being tough enough on Israel, and, who can blame him!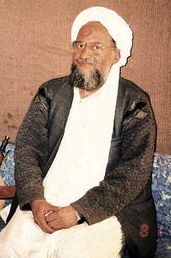 Former cartoon character and
now "al-Qaeda number two"
Ayman al-Zawahiri Magoo.
In an audio recording posted on the Internet on Sunday, al Qaeda's Ayman al-Zawahri accused Hamas of serving U.S. interests by agreeing to respect past Palestinian peace accords with Israel in a recent Saudi-brokered unity government deal with moderate Palestinian President Mahmoud Abbas's Fatah.

Zawahri said the Mecca accord, which calmed weeks of Hamas-Fatah warfare in which more than 90 Palestinians were killed, was part of an attempt by Washington to offset Muslim anger at what he described as its bias toward Israel.
It is kind of strange though that the alleged "al-Qaeda number two" condemned the Mecca accord which "calmed weeks of Hamas-Fatah warfare", while at the same time some "suspicious group" is attacking members of both Hamas and Fatah, which is helping to bring down a unity government that was agreed as a result of the Mecca accord.
If I didn't know better - that the Palestinians, like all Arabs, are simply unable govern themselves - we might even think that there was some connection between these two events...that the "suspicious group" attacking Hamas and Fatah officials and the people behind al-Zawahiri and "al-Qaeda" were one and the same.
Then again, that would be one of those crazy conspiracy theories, now wouldn't it.
Israeli agents accused of creating fake al-Qaeda cell

Sophie Claudet in Gaza City
AFP December 9 2002

A senior Palestinian security official says his services have uncovered an Israeli plot to create a fake al-Qaeda cell in the Gaza Strip, a charge Israel has dismissed as absurd.

The head of preventive security in Gaza, Rashid Abu Shbak, said Israeli agents posing as operatives of al-Qaeda recruited Palestinians in the Gaza Strip.

"Over the past nine months we've been investigating eight [such] cases," Mr Abu Shbak said.

His claims came after the Israeli Prime Minister, Ariel Sharon, said al-Qaeda militants were operating in the Gaza Strip and in Lebanon, raising fears of an intensification of Israeli military occupations.