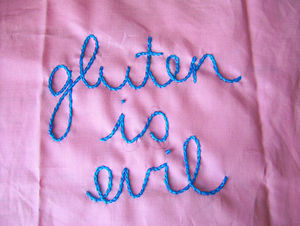 St. Paul, Minnesota - You may have gluten sensitivity and not even know it, according to a study published in the April 23 issue of
Neurology
, the scientific journal of the American Academy of Neurology. Loss of coordination (ataxia) may result from gluten sensitivity. This disease is known as gluten ataxia. The study found that some patients might never experience the gastrointestinal symptoms that prompt them to seek treatment for the disorder.
"Gluten ataxia is a common neurological manifestation of gluten sensitivity," according to M. Hadjivassiliou, M.D., of the Royal Hallamshire Hospital, Sheffield, UK. "It remains unclear why some patients with gluten sensitivity present solely with neurological dysfunction when others present with gastrointentestinal symptoms (gluten sensitive enteropathy) or an itchy skin rash (dermatitis herpetiformis)."
Although the cerebellum (the part of the brain responsible for coordination) and in particular the Purkinje cells (output neurons of the cerebellum) appear to be most susceptible to damage in patients with gluten ataxia, other areas of the brain are not spared. "We were interested to determine the mechanism by which Purkinje cells are damaged in gluten ataxia," commented Hadjivassiliou. Study results show that patients with gluten ataxia have antibodies against Purkinje cells and also that antibodies against gluten (antigliadin antibodies) cross-react with Purkinje cells.
"These results strengthen our contention that eliminating these antibodies through strict adherence to a gluten-free diet may have important therapeutic implications for patients with gluten ataxia," concluded Hadjivassiliou.
The study was supported by the Friedreich's Ataxia Group, UK, and the Telethon Foundation, Italy.

The American Academy of Neurology, an association of 18,000 neurologists and neuroscience professionals, is dedicated to improving patient care through education and research.

For more information about the American Academy of Neurology, visit its website at www.aan.com.