OSWEGO, N.Y. - New York's governor declared a disaster in Oswego County, where five straight days of lake-effect squalls have dumped nearly 100 inches of snow, and even more snow was forecast through the weekend.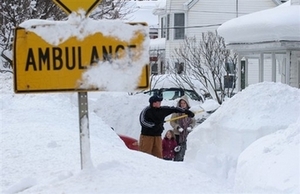 ©Associated Press
The heavy snow started sweeping in off Lake Ontario late Sunday and has pounded the area almost relentlessly since then.
"Oswego is like right in the middle, so every time it goes by us, we get a little bit of snow - actually, a lot of snow," said Oswego Mayor Randy Bateman. "At certain periods of the day, the wind just keeps it right over us. Dumping and dumping."
"You know, it was neat when it started because we hadn't gotten any snow in December or January," Bateman added. "It's getting old now."
Gov. Eliot Spitzer declared a state disaster emergency Thursday, authorizing all state agencies to help assist municipalities and residents in the storm-wracked region. The cities of Oswego and Mexico had already declared their own emergencies, kept schools closed most of the week, and restricted all nonessential travel.
Parts of the county were getting as much as 3 inches of snow an hour Thursday night
, said Dave Sage, a meteorologist with the National Weather Service. On top of that, high wind was creating whiteout conditions.
By Friday morning, the town of Parish had gotten 94 inches of snow.

"They'll get more tonight, probably enough to eclipse 100 inches over seven days," weather service spokesman Jon Hitchcock said Friday.
More than a week of bitter cold and slippery roads have contributed to at least 20 deaths across the northern quarter of the nation - five in Ohio, four in Illinois, four in Indiana, two in Kentucky, two in Michigan, and one each in Wisconsin, New York and Maryland, authorities said.
Tennessee and northern Alabama were getting a taste of the wintery weather as well Friday morning - sleet and freezing rain iced over roadways, and some precipitation was turning to snow.
In Oswego, water main breaks and an animal ice rescue were adding to the challenges for city workers, Bateman said.
"Unfortunately, the forecast is for the same through the weekend," the mayor said. "Hopefully, it won't be as intense. But if it is, we'll just clear it as the snow stops and wait for it to start again."