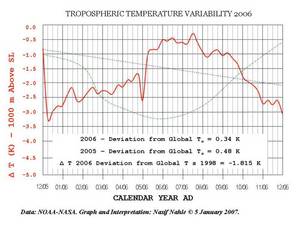 ©Biology Cabinet
2006 HAS BEEN THE COLDEST YEAR OF THE DECADE IN THE WORLD (See Graph here)
Many people have been confused because they have read from NOAA's page that 2006 has been the warmest year of the decade. Nevertheless, when going through the data provided by the own NOAA, we find that in fact 2006 have been the coldest year of the decade. There is not discrepancy between both reports from NOAA, given that, when talking about the warmest year, NOAA refers only to some states of the United States. On the other hand, the data for a local warmer year come from ground weather stations, that is to say, stations located within the cities or "heat islands", whereas the data that indicate that 2006 has been a global (anywhere in the world) colder year were taken at 1000 meters above sea level, far from "heat islands".
Comparing both sources of data to see its trustworthiness, the data obtained at 1000 meters above sea level are more reliable than the obtained on ground. It is worth to add that the data from globes agree with the data provided by satellites, which are the most precise figures, while the data from ground stations does not match with reality.
THE GRAPHS PUBLISHED IN THE WHOLE BIOCAB'S WEBSITE ARE AUTHENTIC ACCORDING TO THE REFERENCE SOURCES, WHICH CAN BE COLLATED TO VERIFY THEIR EXACTITUDE AND VERACITY.
THESE GRAPHS ARE SUBJECT TO INTERNATIONAL LAWS OF COPYRIGHT; HOWEVER, THEY CAN BE USED FREELY FOR ACADEMIC AIMS, FOR DISSERTATION, INVESTIGATION AND PUBLIC DEBATES, AS LONG AS YOU ASK IN WRITING FOR PERMISSION TO BIOLOGY CABINET AND TO INDEPENDENT AUTHORS, AND EVER WHEN YOU MENTION THE SOURCE FROM WHERE THE INFORMATION WAS TAKEN. BIOLOGY CABINET WILL NOT BE RESPONSIBLE FOR THE MISGUIDED OR CRIMINAL UTILIZATION OF THE INFORMATION CONTAINED IN THIS PAGE AND IN THE WHOLE BIOLOGY CABINET'S WEBSITE AND BIOLOGY CABINET WILL ACT LEGALLY WITH RIGOR AGAINST THE PLAGIARISTS OF THIS MATERIAL.
NASIF NAHLE - OWNER BIOCAB
WEBSITE