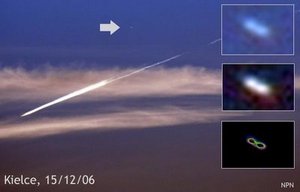 ©NPN
Anomalous object in photo
On 15th December 2006 at about 15:20 Mr. J.B. took photos of a plane passing over Kielce - Uroczysko from a balcony of his flat. He applied Canon Eos 350D camera. After downloading the photos onto his PC he noticed a strange object resembling a bright dot in the airplane area.
"On the following photos the spot remained in its place while the craft and clouds were moving quickly" - he admitted.
After an analyze of the photo with graphic programs, the man noticed an anomalous nature of the object.