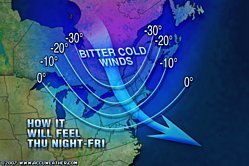 ©Accuweather.com
This is "Global Warming"?
An arctic air mass continues to pour out of Canada and into the Midwest and Northeast, bringing the coldest temperatures so far this winter over the next two days.
Temperatures overnight in Ontario and Quebec plunged to as low as -38°F (-39°C) as the arctic boundary passed, while the overnight low in Saranac Lake, New York fell to -26°F. The cold front will continue across the mid-Atlantic states today and the arctic air mass will reach the Carolinas by Friday.
The cold wind blowing across the long fetch of the warm waters of the Great Lakes is leading to heavy lake-effect snow to the lee of the lakes. Full information on the snow event is included in the Midwest Regional News report.
The Severe Weather Center lists all of the Wind Chill and Snow Advisories in effect in the Northeast.
A strengthening storm well off the New England coast will bring additional strong winds to much of the Northeast tonight into Friday, with gusts to 45 mph forecast for Cape Cod.
The biting winds will make it feel much colder, with RealFeel® temperatures falling below zero today and Friday as far south as New Jersey, Pennsylvania and southern Michigan.
While today will be the coldest day of the week across the Great Lakes, the core of arctic air passing overhead will make it even colder Friday, which will be the coldest day since last winter.