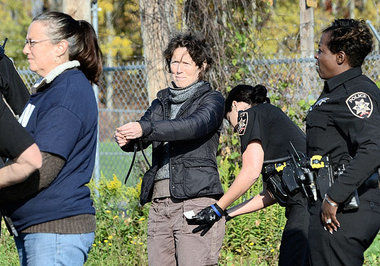 Warplanes have long been based at Hancock Field Air National Guard Base in Syracuse, NY. But in 2009, something new arrived: MQ-9 Reaper drones that were flown remotely over Afghanistan, dropping missiles and bombs and unleashing terror.
Organizers in Upstate New York started protests soon after the drones arrived and founded
Upstate Drone Action
in 2010. In 2011, one longtime activist and member of the Catholic Worker movement, Mary Anne Grady Flores, 57, joined the struggle. As part of the "Hancock 38" in April that year, she was arrested for protesting at the base's main entrance by participating in a die-in to illustrate the indiscriminate killing of civilians overseas by drones.
She was arrested again in October 2012 for another act of "civil resistance," as she puts it, not "civil disobedience," to uphold the U.S. Constitution and international treaties the U.S. signed. That led to Grady Flores and the 16 others being placed under court orders restricting their protest rights. Frustrated by the protesters' persistence, a base commander, Col. Earl Evans, sought and received an orders of protection - usually reserved for domestic violence victims - which was used over time to bar approximately 50 protesters from the base's grounds.