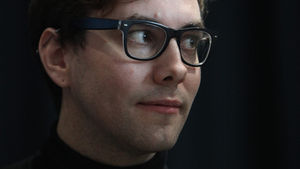 Security researcher Jacob Appelbaum revealed what he calls "wrist-slitting depressing" details about the National Security Agency's spy programs at a computer conference in Germany on Monday where he presented previously unpublished NSA files.
Appelbaum is among the small group of experts, activists and journalists who have seen classified United States intelligence
documents
taken earlier this year by former contractor
Edward Snowden
, and previously he represented transparency group WikiLeaks at an American hacker conference in 2010. Those conditions alone should suffice in proving to most anybody that Appelbaum has been around more than his fair share of sensitive information, and during his presentation at the thirtieth annual Chaos Communication Congress in Hamburg on Monday he spilled his guts about some of the shadiest spy tactics seen yet through leaked documents.
Presenting in-tandem with the publishing of an
article
in Germany's
Der Spiegel
magazine
, Appelbaum explained to the audience of his hour-long "To Protect and Infect" address early Monday that the NSA has secretly sabotaged US businesses by covertly - and perhaps sometimes with the cooperation of the tech industry - coming up with ways to exploit vulnerabilities in the products sold by major American companies, including Dell and Apple, among others.