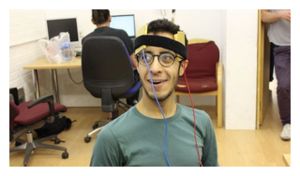 The discussion around neuroenhancement, especially the kind you might be able to try at home, has largely centred around
brain-boosting chemicals
. But smart drugs aren't the only way that more intrepid transhumanists are trying to spur their cognitive function.
On Tuesday night, I went along to meet a few neuroenchancement enthusiasts at
London Hackspace
, where they introduced me to their homebrew variety of a method of brain stimulation called
transcranial direct current stimulation
, or tDCS. This experimental technique applies a small electrical current to your head to try to stimulate certain areas of your brain. It's literally an attempt to jolt your neurons into firing.
I came across Dirk Bruere on a transhumanist subreddit, where he posted about the meeting. He explained in an email that he was trying to get a group together, ultimately to look into "less mainstream stuff like low intensity patterned magnetic fields, cold laser stimulation and the effects of modulated IR and microwaves," but that he'd bring his homemade tDCS kit along that evening.
The equipment was very simple; Bruere said part of the point was to show how cheap and easy it could be. Two wires came out of a black box with an LED and a tempting big red button. On the end of the red wire was an anode, on the end of a blue a cathode. Two small sponge pads fit the copper electrodes, and were soaked in salt water before being applied to the user's head. A Nike sweatband held them in place.