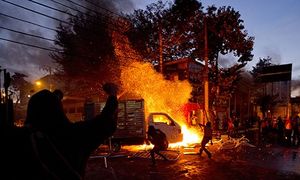 Country set to take South African-style measures as concerns rise that demonstrations will flare up during tournament
World Cup courts are likely to be established at next year's tournament in Brazil as organisers address the country's high crime rate and brace for the possible return of the mass demonstrations that overshadowed the Confederations Cup this summer.
Although the rallies,
which brought more than a million people on to the streets this year
, were largely
peaceful
, the host nation said it will establish exclusion zones around stadiums and step up intelligence-gathering operations aimed at preventing violent protest.
"We have boosted the gathering process to prevent demonstrations during large-scale events, to gather relevant information to put in place whatever measures are required to prevent violent demonstrations," said Andre Rodrigues, special adviser for major events at the Ministry of Justice. He said the creation of dedicated courts has also been proposed by national, state and city level governments.