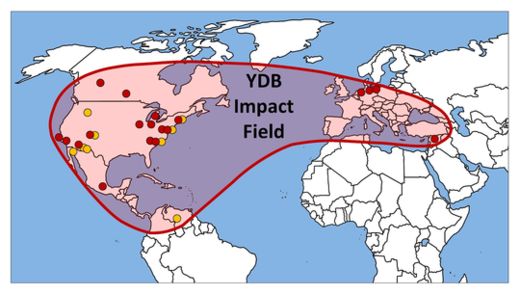 At the end of the Pleistocene period, approximately 12,800 years ago—give or take a few centuries—
a cosmic impact triggered an abrupt cooling episode that earth scientists refer to as the Younger Dryas.
New research by UC Santa Barbara geologist James Kennett and an international group of investigators has narrowed the date to a 100-year range, sometime between 12,835 and 12,735 years ago. The team's findings appear today in the
Proceedings of the National Academy of Sciences
.
The researchers used Bayesian statistical analyses of 354 dates taken from 30 sites on more than four continents. By using Bayesian analysis, the researchers were able to calculate more robust age models through multiple, progressive statistical iterations that consider all related age data.
"This range overlaps with that of a platinum peak recorded in the Greenland ice sheet and of the onset of the Younger Dryas climate episode in six independent key records," explained Kennett, professor emeritus in UCSB's Department of Earth Science. "This suggests a causal connection between the impact event and the Younger Dryas cooling."