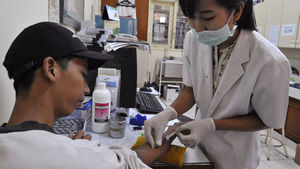 A deadly typhoid 'superbug' is spreading across Africa and Asia,
creating a "previously under-appreciated and ongoing epidemic," a groundbreaking international study warns. H58, driven by a single family of the bacteria, is resistant to most antibiotics.
Researchers from the Wellcome Trust Sanger Institute, who have been studying the far-reaching infection, say typhoid affects around 30 million people each year. According to researchers, H58 has emerged and spread throughout Asia and Africa over the last 30 years.
Evidence of a recent unreported wave of H58 transmission in many countries in Africa has also been found.
The scientists say the study results add to the message that "bacteria do not obey international borders."
What sounds even worse is that
H58 is currently "displacing other typhoid strains that have been established over decades and centuries throughout the typhoid endemic world, completely transforming the genetic architecture of the disease
," the researchers, whose work has been
published in the journal Nature Genetic
, have pointed out in a statement. The large-scale research involved some 74 scientists in almost two dozen countries.