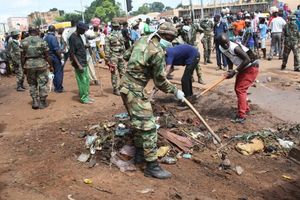 The deadly Ebola virus, which once commanded global media attention before slowly slipping off the front page, has continued to quietly kill people in West Africa.
According to the World Health Organization, the death toll due to Ebola has now reached a staggering 10,000 people, more than doubling in the past five months.
The number of people infected with the disease is over 24,000.
But the virus was back in the news on Monday when an American healthworker, flown to the US from Sierra Leone for fear of contracting Ebola while treating patients there, was listed in critical condition.
Ten other American medical aid workers who had treated the healthworker were also flown back to the US over the weekend and placed in quarantine.