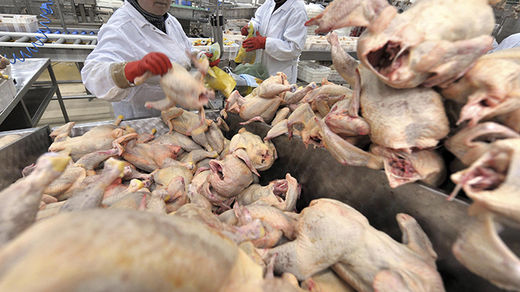 A Guardian investigation has revealed alleged widespread hygiene failings in Britain's poultry industry, prompting three major UK supermarkets to launch emergency inquiries into their chicken suppliers.
Undercover film footage, photographic evidence, and allegations from whistleblowers indicate the UK's strict hygiene standards to avoid the contamination of chicken by a potentially lethal
"campylobacter"
bug can be easily flouted on British factory floors and farms.
In the last month, an array of hygiene breaches were uncovered that could contribute to the spread of this dangerous bug - including a factory floor littered with chicken guts and instances of chicken carcasses being ferried to factory production lines by workers' footwear. Other worrying practices concerning the processing of retail chicken and increased risks of contamination were also revealed by the investigation.