---
The Russian and US presidents have set aside their differences over Iraq, saying the crisis strengthened their partnership.
Russian President Vladimir Putin and US President George W Bush were speaking at a joint news conference after talks in St Petersburg - their first meeting since the war in Iraq.
Mr Bush said the differences over the US-led war would only "make our relationship stronger, not weaker". His words were echoed by Mr Putin, who said his personal relationship with Mr Bush had withstood the crisis, which had "strengthened" Russian-US ties.
"The fundamentals of US-Russian relations turned out to be stronger than the forces and events that tested them," he said...
Mr Bush said he and Mr Putin also had "mutual concerns about the advanced Iranian nuclear programme". "We want to work together as well as with the IAEA (International Atomic Energy Agency) to insist that they not have a nuclear weapon," Mr Bush said.
They also pledged to bolster their co-operation in the fight against international terrorism... Mr Bush arrived in St Petersburg from Poland, where he made a speech urging Europe to present a united front with the US against terrorism and weapons of mass destruction and to forget the divisive issues of the past.
At Saturday's dinner, the US president shook hands and spoke briefly with another anti-war leader, German Chancellor Gerhard Schroeder - their first post-war meeting.
Another staunch war critic, President Jacques Chirac of France, left St Petersburg shortly before Mr Bush arrived.
The US and French leaders are due to meet face-to-face at the town of Evian in France on Sunday when Mr Chirac hosts the G8 summit of leading industrialised nations. In Poland, Mr Bush's first stop-over in a week-long tour that will also take him to the Middle East, the US president thanked the country for its support in the Iraq war.
Mr Bush visited the remnants of a gas chamber and crematorium at Auschwitz-Birkenau, the notorious former Nazi death camp where 1.5 million Jews and many other victims were murdered. "This site is a sobering reminder of the power of evil and the need for people to resist evil," he said...
Comment: You said it George, except that we have all the reminders we need in you and the rest of the Armageddon gang.
U.S.-French chemistry

By Louis R. Golino
THE WASHINGTON TIMES

The leaders of the world's eight biggest industrial democracies, known as the Group of Eight begin a three-day summit today in Evian-les-Bains, France.

As the G-8 leaders discuss the world economy, globalization and other issues, many observers are expected to focus on the personal chemistry between President Bush and France's President Jacques Chirac, looking for signs of a thaw in the strained U.S.-French relationship.

Mr. Bush has said France's position on the Iraq war appeared anti-American to some people.

He and other senior U.S. government officials were particularly disappointed by France's efforts to delay providing defensive NATO aid to Turkey, prevent the United States from obtaining a second U.N. Security Council resolution authorizing the use of force against Iraq and develop a Franco-German-Russian axis to contain U.S. power.
The French government maintains that it opposed the war, not the United States, and that it wants to help Washington win the peace in Iraq. Paris also notes that it gave the U.S. overflight rights and intelligence information.

Bush-Chirac relationship

On April 25, Mr. Bush and Mr. Chirac held their first conversation in more than two months after Mr. Chirac telephoned in an effort to begin patching up relations.
France is seeking to repair the rift in its relations with the Bush administration while continuing to pursue a fiercely independent, neo-Gaullist foreign policy intended to create a stronger Europe that is a counterweight to the United States.
Prior to the Iraq crisis, Mr. Bush and Mr. Chirac were said to have a good personal relationship, but those ties became severely strained after France led opposition to the Iraq war.
According to Guillaume Parmentier — director of the French Center on the United States at the French Institute of International Relations and a professor at the University of Paris II — Mr. Chirac "is unquestionably the French president who most knows and admires U.S. society, and is famous for not bearing grudges."
But, Mr. Parmentier added, "I believe that he finds it particularly difficult to communicate with the Bush administration, in sharp contrast with his friendly and direct relationship with President Clinton."
The French government recently delivered a letter to the U.S. government saying that there has been an "organized campaign" to discredit France in the U.S. media.

Secretary of State Colin L. Powell has said that France will suffer unspecified consequences for its opposition to the U.S.-led war in Iraq. Some members of Congress have called for trade sanctions and other punitive measures against France, although none of the measures has become law. [...]

U.S. will hold a grudge against Canada: Rice

By TIMOTHY APPLEBY
From Saturday's Globe and Mail
The Bush administration's disappointment with Canada for refusing to join the war on Iraq will not disappear quickly, National Security Adviser Condoleezza Rice said yesterday.
Briefing foreign reporters in Washington ahead of this weekend's G8 summit meeting in France, Ms. Rice said that notwithstanding "a relationship that's important to us . . . a good relationship," healing U.S.-Canadian differences "will take some time."
Ms. Rice is regarded as one of President George W. Bush's closest advisers and the most senior administration official who deals regularly with Canada.
Mr. Bush yesterday abandoned the Oval Office tradition of granting a group interview before a summit to selected reporters from the Group of Eight leading industrialized nations, leaving the task to his National Security Adviser. The President chose instead to speak to reporters from countries he will visit in the coming days as part of a lightning trip to Russia, Europe and the Middle East.
In the interview, Ms. Rice spelled out the White House's displeasure over the Chrétien government's unwillingness to join Britain and Australia in the coalition that overthrew Saddam Hussein.
"I think there was disappointment in the United States that a friend like Canada was unable to support the United States in what we considered to be an extremely important issue for our security," she said.
The U.S. position was taken "for the security of the international community, and to try and spread freedom. Those are values that we share with our long-time friends."
She said differences with Canada had put bilateral relations through "some difficult times."
"And so, yes, there was some disappointment that there seemed to be some questioning of American motives, and some lack of understanding that we were simply trying to do this in support of our own security, in support of everyone else's security.
"And that disappointment will, of course, not go [away] easily. It will take some time, because when friends are in a position where we say our security's at stake, we would have thought, as we got from many of our friends, that the answer would have been, 'Well, how can we help?' "
Germany received a similar mark of disapproval. "An important and good relationship" has been tarnished by Germany's outspoken opposition to U.S. policy on Iraq, Ms. Rice said.
As for Mr. Bush's dealings with German Chancellor Gerhard Schroeder, who will be at the G8 summit in Évian, France, "I can't answer the question of whether personal relations between the President and the Chancellor will ever be the same. We will have to see."
Turning to France, which was also critical of the decision to attack Iraq, "there were times when it appeared that American power was seen to be more dangerous than perhaps Saddam Hussein," Ms. Rice said. "I'll just put it very bluntly. We simply didn't understand it."
"We have been allies in great struggles in world wars," she said of the French. "The United States gave its blood to liberate France."
Italy, by contrast, got a glowing assessment.
Prime Minister Silvio Berlusconi, who vigorously supported the U.S. position on Iraq, has "a close personal relationship" with Mr. Bush and was "extremely helpful" during the war — a position, she hinted, that might be rewarded. "Italy, I think, will be involved in its own way in the reconstruction of Iraq."...
Ms. Rice took particular aim at Iran, stating it supports "terrorism around the world" and "is in violation of its international agreements [by attempting] to . . . build a weapons of mass destruction program, a nuclear-weapons program . . . and seems intent on harbouring al-Qaeda leaders."
But asked if the White House was planning "regime change" in Iran, her response was vague, alluding to the deep split within that country between the elected, reform-minded national assembly and the country's more powerful conservative clerics.
"The policy of the administration is that the Iranian regime should start to act like the elected regime — like an elected regime that is pursuing the aspirations of the Iranian people."
Comment: The US continues to write its own rules. Bush said the differences with Russia made their relationship stronger while Rice insists that Germany, France and Canada will pay for their differences. We see Bush continuing his Game Theory by refusing to meet the G-8 journalists, breaking a long-standing tradition. He is empahsizing yet again that international forums where the US is treated as a partner or equal are to be discredited. Bush spends his time rewarding the vassal-states that remain subserviant to the new Imperium. His next snub will be this weekend at Evian where he is staying for only 24 hours of the planned three-day meeting.

Bush Urges an Alliance Against Terror
President Asks Europe to Move Beyond Bitterness Over Iraq War

By Mike Allen and Susan B. Glasser
Washington Post Foreign Service
Sunday, June 1, 2003
ST. PETERSBURG, May 31 -- President Bush implored the great powers of continental Europe today to overcome their bitterness about the war in Iraq and support the United States' approach to fighting terrorism.
Hours after strolling somberly along a rail spur at the Auschwitz concentration camp in an effort to evoke the perils of evil in any age, Bush told a crowd in Krakow, Poland, that the "enemies of freedom" would win if the West's divisions over the war persisted.
"This is a time for all of us to unite in the defense of liberty and to step up to the shared duties of free nations," he said in the sunny courtyard of Wawel Royal Castle, where Polish kings ruled for 600 years. "This is no time to stir up divisions in a great alliance."
In addition, Bush announced that his administration was undertaking a new initiative to foster international cooperation in seizing ships and aircraft suspected of carrying illegal weapons or technology.
The address marked a striking shift in rhetoric for the Bush administration, which is facing renewed criticism at home and abroad for the military's failure to find the weapons of mass destruction that Bush said was a chief reason for going to war in Iraq. Bush and his aides made clear, however, that he envisions an alliance dedicated to U.S. aims and that his stance today was more a matter of practicality than forgiveness. [...]
Comment: A striking shift in rhetoric? Bush has simply repeated once again that he wants the nations of the world to bow to his will. By now, it should be painfully obvious that the concept of cooperation is entirely foreign to him.
Anti-War Polish Mayor Banned from Bush Visit

WARSAW (Reuters) - The mayor of the Polish city of Krakow said Thursday he had been excluded from President Bush's visit to the city this weekend because of his opposition to the war on Iraq.
"It is customary that the mayor, as the host of this city, should take part in the welcoming ceremony. But the Americans have said they will not have it," Mayor Jacek Majchrowski told private radio RMF.
"It is strange that guests dictate where the host should or should not be," he added.
Majchrowski wrote a newspaper article entitled "Pax Americana" in March, harshly criticizing the U.S.-led war to topple Iraqi president Saddam Hussein, in which Poland also took part.
He has welcomed anti-war marches in Krakow, lauding the demonstrators as having "saved the honor of the city."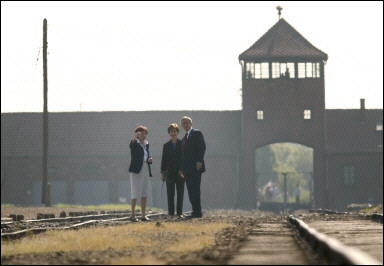 French riot police clash with protestors on eve of G8 summit
Sunday June 1, 7:01 AM

French police used tear gas and batons to disperse anti-globalisation demonstrators as protestors cranked up plans to disrupt the G8 summit of the world's richest countries in Evian.
About 400 protestors were pushed back by several hundred police officers when they tried to block access to a meeting attended by a French Socialist party delegation, local officials said. No-one was arrested. [...]
Security is so tight in Evian, the French spa town where the leaders of the Group of Eight (G8) are due to open their annual summit on Sunday, that protestors were forced to focus their campaign around Annemasse and Geneva. [...]
Comment: These are the leaders of the "free world", this is "democracy" that requires 12,000 armed troops, anti-missile batteries, submarines in lake Geneva.
Chirac to Call for Shift From Battling Terrorism to Helping Poorer Nations
By JOHN TAGLIABUE
New York Times
ÉVIAN-LES-BAINS, France, May 31 — When President Bush and the other Group of 8 leaders gather to discuss the world's problems on Sunday and Monday, they will no doubt be hoping that this trim spa on the shores of Lake Geneva will be the source of something more than just cold bubbling spring water.
Their host, President Jacques Chirac of France, will press them to turn their attention from terrorism, Iraq and the Middle East to restarting a process of helping less developed regions of the world, most notably Africa.
Mr. Chirac is expected to say that the wealthiest nations must increase their spending for education, health care, water and farming, and that they must help restructure government institutions and encourage free investment in the poorer regions of the world.
To press his case, Mr. Chirac has invited the leaders of 12 developing countries, including nations in Africa, Latin America, the Middle East and Asia. [...]
Comment: This is a farce. Does anyone really believe that the wretched economic and political state of most African countries is pure chance, coincidence or fate? Is it also pure chance or luck that these G8 nations possess 80% of the world's wealth? Is it also chance that the US has 5% of the world's population yet consumes 30% of its food (and wastes 50% of that)? This state of affairs does not occur by "chance", it must be contrived and manipulated. The proposed discussion to help "less developed nations of the world" (almost sounds like it is their fault right?) is nothing more than a discussion on how to maintain the status quo keeping the balance weighted heavily in favor of western nations. "Just between you and me, shouldn't the World Bank be encouraging more migration of the dirty industries to the LDCs (lesser developed countries)? I think the economic logic behind dumping a load of toxic waste in the lowest wage country is impeccable and we should face up to that.... I've always thought that underpopulated countries in Africa are vastly under polluted; their air quality is vastly inefficiently low compared to Los Angeles or Mexico City."
-- Lawrence Summers World Bank economist and Deputy Secretary of Treasury, in a 1991 internal memorandum

Wake Up, America
Or Is It Already Too Late?
by ELAINE CASSEL
May 31, 2003
I teach law and psychology, and also do a good deal of public speaking, mostly to lawyers, educators, and social workers. Since September 11, 2001, I have been watching closely what the Bush dictatorship is doing at home and abroad. I continue to be disgusted and dismayed by how little presumably well-education Americans know about what is going on at home in Bush's "other war," the war against you and me, and the American way of life.
For instance, many people do not know what I mean by the Patriot Act. They don't question the airports' resemblance to National Guard training weekends. A mother this week told me that she had to pour out or drink the breast milk she had pumped for her baby's consumption on the trip (she drank it, to recycle it, so to speak). I asked this mother if that did not outrage her. Not particularly, she said. She figured "they" were doing it to protect her. From what, I asked? Did it make sense that her breast milk could be a weapon to be used to terrorize the passengers? [...]

Comment: "Why of course the people don't want war. Why should some poor slob on a farm want to risk his life in a war when the best he can get out of it is to come back to his farm in one piece? Naturally, the common people don't want war: neither in Russia, nor in England, nor for that matter in Germany. That is understood. But after all it is the leaders of the country who determine the policy, and it is always a simple matter to drag the people along, whether it is a democracy, or a fascist dictatorship, or a parliament, or a communist dictatorship ... Voice or no voice, the people can always be brought to the bidding of the leaders. That is easy. All you have to do is to tell them they are being attacked, and denounce the pacifists for lack of patriotism and exposing the country to danger."
-- Leading Nazi, Hermann Goering, at the Nuremberg Trials before he was sentenced to death.
It Was the Lying, Right?
Clinton, Bush and Impeachment
By DAVE LINDORFF
May 31, 2003
Everyone agreed that it was not the sex. It was the lying, right? If having extramarital sex in the White House were an impeachable offense, the impeachment of presidents would long ago have become a routine affair. We'd have seen Roosevelt, Ike, Kennedy, Johnson, Nixon and Bush the Elder in the dock for sure, and maybe Ron, too.

But everyone agreed it wasn't the sex that got President Clinton in trouble. It was the lying. The audacious bending of the meaning of the word is and the word sex. Right?

But has lying ever been practiced so blatantly as it is being practiced today in the White House?
UK intelligence chiefs warned claim that Iraq could activate banned weapons in 45 minutes came from unreliable defector
By Raymond Whitaker, Paul Lashmar and Andy McSmith
The Independent
01 June 2003
Tony Blair's sensational pre-war claim that Iraq's weapons of mass destruction "could be activated within 45 minutes" was based on information from a single Iraqi defector of dubious reliability, The Independent on Sunday can reveal.
British intelligence sources said the defector, recruited by Ahmed Chalabi's Iraqi National Congress, told his story to American officials. It was passed on to London as part of regular information-sharing with Washington, but British intelligence chiefs considered the "45 minutes" claim to be unreliable and uncorroborated by any other evidence. How it came to be included as the most dramatic element in the Government's "intelligence dossier" last September, making the case for war, is now the subject of a furious row in Whitehall and abroad.
The armed forces minister, Adam Ingram, admitted last week that the information had come from a single source. But Downing Street denied a report that the claim made its way into the dossier only after politicians rejected a more cautious draft prepared by the intelligence services and demanded that it be "sexed up".
Coming in the same week that the United States Defence Secretary, Donald Rumsfeld, said Iraq might have destroyed its banned weapons before the war, the row has called into question the entire Anglo-American case on WMD. The failure to find such weapons has led to demands in the US and Britain for inquiries into whether the public was misled.
Comment: Whether the public was mislead??!! What is the problem here?? Why can't people call a spade a spade?! It is staring everyone in the face!!
Blair duped Britain over Iraq says Short
Sunday June 1, 9:39 AM

Prime Minister Tony Blair duped the public over the threat posed by Saddam Hussein in order to ensure Britain invaded Iraq, Clare Short, who resigned from his cabinet, told a British Sunday newspaper.
"There was political spin put on the intelligence information to create a sense of urgency," Short, who stepped down as International Development Secretary following the end of the conflict in Iraq, told the Sunday Telegraph.
"It was a political decision that came from the prime minister," Short told the right-wing weekly newspaper.
"We were misled. I think we were deceived in the way it was done," Short said. [...]
Short's comments came as a new poll, published in The Mail on Sunday, showed that 63 percent of British voters felt they had been misled by Blair over the issue. [...]
Invented weapons claim absurd, says PM
IC Network
Tony Blair has hit back at critics who claim the Government forced the intelligence services to fabricate evidence of Saddam Hussein's weapons of mass destruction (WMD).

The Prime Minister called the idea "completely absurd" and said he had "absolutely no doubt at all" that the evidence of Saddam's WMD was completely true.[...]

Straw, Powell had serious doubts over their Iraqi weapons claims

Secret transcript revealed

Dan Plesch and Richard Norton-Taylor
Saturday May 31, 2003
The Guardian

Jack Straw and his US counterpart, Colin Powell, privately expressed serious doubts about the quality of intelligence on Iraq's banned weapons programme at the very time they were publicly trumpeting it to get UN support for a war on Iraq, the Guardian has learned.
Their deep concerns about the intelligence - and about claims being made by their political bosses, Tony Blair and George Bush - emerged at a private meeting between the two men shortly before a crucial UN security council session on February 5.
The meeting took place at the Waldorf hotel in New York, where they discussed the growing diplomatic crisis. The exchange about the validity of their respective governments' intelligence reports on Iraq lasted less than 10 minutes, according to a diplomatic source who has read a transcript of the conversation.
The foreign secretary reportedly expressed concern that claims being made by Mr Blair and President Bush could not be proved. The problem, explained Mr Straw, was the lack of corroborative evidence to back up the claims.
Much of the intelligence were assumptions and assessments not supported by hard facts or other sources.
Mr Powell shared the concern about intelligence assessments, especially those being presented by the Pentagon's office of special plans set up by the US deputy defence secretary, Paul Wolfowitz.
Mr Powell said he had all but "moved in" with US intelligence to prepare his briefings for the UN security council, according to the transcripts.
But he told Mr Straw he had come away from the meetings "apprehensive" about what he called, at best, circumstantial evidence highly tilted in favour of assessments drawn from them, rather than any actual raw intelligence.
Mr Powell told the foreign secretary he hoped the facts, when they came out, would not "explode in their faces".
What are called the "Waldorf transcripts" are being circulated in Nato diplomatic circles. It is not being revealed how the transcripts came to be made; however, they appear to have been leaked by diplomats who supported the war against Iraq even when the evidence about Saddam Hussein's programme of weapons of mass destruction was fuzzy, and who now believe they were lied to. [...]
Bush, Blair face heat over Iraq weapons claims
Associated Press
BAGHDAD, Iraq — The CIA is reviewing its intelligence, British agents are reportedly doubting their own assessments and Saddam Hussein's enemies are being accused of manufacturing evidence. Now, senior politicians on both sides of the Atlantic want answers to what is becoming the most asked question since major combat ended in Iraq: Where are the unconventional weapons the coalition said it went to war to destroy? [...]
Blair: I have secret proof of weapons
Gaby Hinsliff, Nick Paton Walsh in St Petersburg and Peter Beaumont in London
Sunday June 1, 2003
The Observer
Prime Minister Tony Blair last night insisted he had secret proof that weapons of mass destruction will be found in Iraq in his strongest signal yet that coalition forces believe they may have begun to uncover leads to Iraq's alleged deadly arms cache.
Stung by claims that the Government exaggerated the threat from Saddam, Blair said he was waiting to publish a 'complete picture' of both intelligence gained before the war and 'what we've actually found'.
Asked if he knew things he could not yet reveal, he said: 'I certainly do know some of the stuff that has been already accumulated as a result of interviews and others... which is not yet public, but what we are going to do is assemble that evidence and present it properly.' [...]
Blair said in his interview that claims that the existence of WMD was 'a great big fib got out by the security services' would be proved wrong. He said he had 'absolutely no knowledge' of an alleged meeting between the Foreign Secretary, Jack Straw and his US counterpart Colin Powell, in a New York hotel to discuss concerns over whether the evidence on WMD would be strong enough. Leaked transcripts suggested Straw had warned the issue could 'explode in our faces'.
The Foreign Office insisted the two men had not met on the date given in February.
Downing Street has been hampered in its argument by repeated suggestions from the Bush administration that WMD may never be found. Paul Wolfowitz, deputy to the US Defence Secretary Donald Rumsfeld, suggested last week that WMD were a bureaucratic pretext to start a war.
Blair told Sky that WMD were the basis in law for taking military action - but 'that's not the same as saying it's a bureaucratic pretext'. [...]
Comment: Notice Blair's presentation of the accusation against him: "a great big fib got out by the security services". Now we know that Blair is an educated and literate man, so where is this "baby-talk" coming from? Try Neuro Lingusitic Programming. He deliberately presents the accusation against him in a child-like manner in an attempt to lessen the impact and seriousness of the charge in the public mind. It is as if Blair sees it as a game, deciding each morning which face he will present or which role he will play.
Well Tony, we're here to tell you and anyone else who thinks life is a game and we its game pieces, that it is not, and your actions leading up to the Iraq invasion do not constitute a "great big fib". You are accused of deliberating lying to the British public, encouraging them to support an unjust and illegal war in their name, leading to the unnecessary deaths of countless thousands of Iraqi civilans and an unknown number of British army personnel. At the very least you are unfit to lead the nation and should be removed from office immediately, at most there is a strong case to try you as a war criminal.

The lies that led us into war ...
Glen Rangwala
The Independent
01 June 2003
One key tactic of the British and United States governments in their campaign on Iraq's alleged weapons of mass destruction was to talk up suspicions and to portray possibility as fact. The clearest example was the quotation and misquotation of the reports of United Nations weapons inspectors.
Iraq claimed it had destroyed all its prohibited weapons, either unilaterally or in co-operation with the inspectors, between 1991 and 1994. Although the inspectors were able to verify that unilateral destruction took place on a large scale, they were not able to quantify the amounts destroyed.
For example, they were able to detect that anthrax growth media had been burnt and buried in bulk at a site next to the production facility at al-Hakam. There was no way - and there never will be - to tell from the soil samples the amount destroyed. As a result, UN inspectors recorded this material as unaccounted for: neither verified destroyed nor believed to still exist.
Translated into statements by the British and US governments, it became part of "stockpiles" that they claimed Iraq was hiding from the inspectors. Both governments knew UN inspectors had not found any nuclear, chemical or biological weapons in Iraq since at least 1994, aside from a dozen abandoned mustard shells, and that the vast majority of any weapons produced before 1991 would have degraded to the point of uselessness within 10 years.
Even the most high-profile defector from Iraq - Hussein Kamel, Saddam Hussein's son-in-law and director of Iraq's weapons programmes - told UN inspectors and British intelligence agencies in 1995 that Iraq had no more prohibited weapons. And yet Britain's dossier last September repeated the false claim that information "in the public domain from UN reports ... points clearly to Iraq's continuing possession, after 1991, of chemical and biological agents and weapons produced before the Gulf War".
There is no UN report after 1994 that claims that Iraq continued to possess weapons of mass destruction. This was well known in intelligence circles. That such a claim could appear in a purported intelligence document is a clear sign that the information was "pumped up" for political purposes, to support the case for an invasion.
War on Iran has sequel potential
The Toronto Star
[...]
The next war is already getting heavy advance promotion.
CNN has a graphic going "Inside Iran,'' and Wolf Blitzer has been braying about how Iran may have weapons of mass destruction, could be supporting Hezbollah terrorists and, of course, has connections to ever-elusive Al Qaeda. Friday afternoon, he allowed one of the usual suspects from the Heritage Foundation — don't you love how these right-wing think tanks are named? — to call Iran the "poster child for axis of evil.''
Then political analyst William Schneider talked on CNN about Iran's ``dangerous nuclear ambitions'' and its "subjugation of women.'' But he uttered nary a word about how in Iraq, where women had far more freedoms, they're now terrified of marauders whom the U.S. occupation forces can't seem to control — as well as of how the radical Muslim mullahs are curtailing their post-war liberties.
Iraq has become to the U.S. something like what Gaza is to Israel, a dangerous and hostile occupied territory. Anarchy rules, basic services are still in short supply, and while the coalition may have won the war, it's far from winning the peace. One month after Bush, in his Top Gun outfit, announced the hostilities were over, American boys in uniform are still dying, at the rate of almost one a day.
But you wouldn't know it from following most U.S. TV news. The embedded reporters are back stateside, dining out on their war stories, while the networks are cutting back on their foreign coverage ... again.
In the next war, we can expect another bunch of clueless journalists to run amok not knowing any geography, history or anything about where they are.
Here we go again, kids.[...]
Afghan drugs trade funds terrorists
Prime Minister warns Russia that trade in narcotics is being used to fund terror groups
By Andy McSmith, Political Editor, in St Petersburg
The Independent
01 June 2003
Tony Blair appealed to the Russians yesterday to help fight the international drugs trade, which he fears has become a major source of funds for terrorists.
The Prime Minister admitted that large quantities of heroin are still being produced in the poppy fields of Afghanistan, despite the war that overthrew the Taliban regime. His comments in St Petersburg also implied that criminal gangs from the former Soviet Union are involved in the drugs trade.
Mr Blair urged Russia's President, Vladimir Putin, to find a political solution to Russia's long-running conflict with the Muslim republic of Chechnya. Militant Chechens fought alongside the Taliban in Afghanistan, and Chechen gangs are suspected of playing a big role in organised crime...
"If we are going to ensure that terrorism is reduced, then we have to make political progress in Afghanistan and elsewhere and we have to give people an opportunity to develop a different way of life and a different way of increasing their living standards than reliance on the drugs trade," [Blair] said.
He also denied that his close alliance with President Bush had made him an outcast among European leaders. Television shots of Mr Blair talking privately to Jacques Chirac and Germany's Joschka Fischer suggested that both conversations were fraught, with finger-wagging and mutual rebukes.
But in an interview with Sky television, to be broadcast today, Mr Blair said: "People are seeing whether there is a concept of partnership that doesn't end up as subservience to America. They want to be partnering America, but they don't want to be America's servant. That's a perfectly understandable position."
Comment: Blair's comment on Afghanstan is nauseating. The man has the gall to indulge in anti-drugs talk when it was he and his 'ol war partner Bush that re-established the opium trade, first massacreing 5,000 civilians and staging a game of hide and seek with "Osama". We see now why people like Blair are at the top of the heap in this world. The are the ones with no scruples, no morality, no conscience, incapable of feeling guilt or shame, with an endless capacity to lie and deceive, craving only the realisation of their narcissistic goals, stopping at nothing to achieve them.
'Occupiers are failing desperate city'
By Jo Dillon, Deputy Political Editor
The Independent
01 June 2003

Aid agencies have accused the British and United States governments of failing to meet their legal obligations to the people of Iraq.
Cafod, Christian Aid and Oxfam - three leading humanitarian organisations working in post-conflict Iraq - claim levels of security are insufficient to allow aid workers to do the job needed.
They warn this puts Britain and America in breach of their international obligations - and liable for censure by the United Nations. It puts in jeopardy the health and welfare of ordinary Iraqis and presents the risk that frustration among the people will turn to civil unrest if steps to improve their lot are not taken urgently.
Oxfam's policy adviser for Iraq, Jo Nickolls, has just returned from a stint in Baghdad. "One of the most striking things is the sense of complete uncertainty and fear," she said.
"People don't know how things are going to progress and at the same time are having to live a very tough day-to-day existence without electricity and clean water."
Hospitals in the capital are still treating a majority of people for complaints related to a polluted water supply - cholera, dysentery and diarrhoea - and the breakdown of law and order is making it difficult to replace water systems and the electricity supply.
"Security is definitely the primary concern," Ms Nickolls said. "The occupying power has a duty to restore as far as possible law and order and safety. They do seem to be failing to meet their obligations."
Her views were shared by fellow aid workers. Alistair Dutton, emergencies officer at Cafod, who has just returned from Basra, said: "I can't pretend that the regime that has been removed was in any way good or easy to work under.... But five or six weeks after the war ended, the situation in the country is not consistent with the Coalition forces' responsibilities under international law. Failure to secure the country or to make it safe is severely hampering the humanitarian effort."
Aside from looting, the ready availability of guns and general lawlessness, the aid agencies complain that unex- ploded bombs and mines have not yet been cleared.
People are afraid to leave their homes, they claim, especially women and children - which means food and medical aid is failing to reach those who are most vulnerable.
Comment: And Bush and Blair care? Seriously, does anyone really believe that they give a damn? It's time to start living in the real world. It ain't a pretty picture, but to open our eyes and see the painful reality is infinitely preferable to acting as accessories to the crimes being pepetrated by our leaders by wishing and pretending that it is not happening.
Revealed: the cluster bombs that litter Iraq
Kamal Ahmed, political editor
Sunday June 1, 2003
The Observer
The shocking extent of unexploded cluster bombs dropped by American and British planes, which litter Iraq eight weeks after the conflict, is revealed in detail for the first time today.
The first map based on military intelligence to show the exact location of unexploded anti-personnel mines, cluster bombs and anti-tank mines, obtained by The Observer, shows the vast area of the country which is at danger from live munitions.
Experts in clearing conflict zones of unexploded bombs say that millions of Iraqi adults and children are at risk, along with humanitarian aid workers, United Nations personnel, civilian staff and military officials.
Its revelation raises fresh questions for Tony Blair and George Bush, who insisted that post-conflict Iraq would be a safer place than it was under Saddam Hussein. [...]
'Iraqis want Saddam tried and executed'
By Andy McSmith, Political Editor, and Rupert Cornwell in Washington
01 June 2003
The Independent
The men who carried out mass killings and other atrocities on the instructions of Saddam Hussein will be handed over to newly constituted Iraqi courts for trial and probable execution, said Britain's most senior official in Iraq.
If Saddam himself is found alive, there will be a clamour from his former victims for him to be killed quickly, if only to reassure the Iraqi people that he can never return to power, John Sawers, head of the British mission in Basra, told The Independent on Sunday. "The Iraqis want him to be found. They will want his head on a stick," he added.
The prospects of Iraqi officials being put through a rudimentary legal process and led off to execution is certain to offend liberal opinion in Britain - although it may cause fewer difficulties than seeing them tried and executed by the Americans, an idea floated in Washington.
But Mr Sawers hinted that it is unlikely that either Saddam Hussein or any other former Iraqi leaders will appear before the kind of international tribunal that has dealt with war criminals from the Balkans or Rwanda.
He said there is "no precedent" for any international war crimes trial of Iraqis, because their case is distinct from the Serbian and Rwandan conflicts. It also unlikely an international tribunal would inflict the death penalty. [...]
Comment: We have the distinct impression that the opinion of the head of the British mission in Iraq is severely biased. From reports we have read it seems more likely that the average Iraqi is equally likely to want to see Bush and Blair's heads on sticks.
U.S. intelligence agencies still believe the threat to U.S. interests—including those in America—remains quite high

June 9 issue — Washington may have reduced the domestic terrorist-alert level to yellow from orange but that doesn't mean the threat of a terrorist attack has greatly receded recently.

OFFICIALS TELL NEWSWEEK that U.S. intelligence agencies still believe the threat to U.S. interests—including those in America—remains quite high. Officials say "chatter" among known terrorists monitored by intelligence services has not dramatically fallen since the terror-alert level was last raised.[...]
Pessimistic officials in Washington say even at "condition yellow," the fragmentary picture that intelligence information paints of Qaeda activities still evokes uncanny echoes of what analysts saw in the weeks before 9-11.

Global Eye -- Copycat Killers
By Chris Floyd
The Moscow Times

"This is a blessing of Sept. 11!" exclaimed the president's top adviser, as tanks rolled across the border and paratroopers blackened the sky above the enemy's land -- an outlaw state seething with "terrorists" and run by "international criminals." With embedded media breathlessly narrating the action, the president launched the greatest display of military might the nation had seen in more than a generation, an earth-shaking blitzkrieg that the generals like to call "Shock and Awe."
That was the scene in Indonesia last week, as the military force responsible for two of the most horrendous campaigns of genocide in the last 50 years stormed into the rebel province of Aceh, vowing to crush a 27-year-old independence movement in just six months. The Indonesian militarists -- who killed more than 500,000 people (a conservative estimate) in a CIA-assisted coup in 1965, then slaughtered more than 250,000 East Timorese in an American-backed invasion in 1975 (not to mention the mere thousands they and their paramilitary fronts killed in East Timor in the 1990s) -- were back in the saddle and loaded for bear.
They were ordered in by President Megawati Sukarnoputri, a rather feckless leader who was elevated to power on the strength of her famous father's name but struggled in office -- until she failed to prevent a bloody attack by al-Qaida on her homeland and was paradoxically rewarded with new powers and popularity. But as her close ally George W. Bush could tell her, a terrorist hit -- like any illicit high -- doesn't last long. You always need another fix. Especially when your economy is sinking beneath the weight of rampant cronyism, corruption, poverty and inequality...
It was the latter theme that led senior Megawati advisor Rizal Mallarangeng to echo Bush's American sycophants in declaring the mass murder of Sept. 11 "a blessing," The New York Times reports. We're blessed, it seems, because the honorable Mr. Bush has now shown us how to deal with anyone we care to label a "terrorist" -- with blood and thunder, collateral damage be damned. So Megawati broke a tenuous ceasefire by heaping purposely unacceptable demands on the rebels, then brought down the Bush-style iron fist.

For despite the slick media makeover, the assault on Aceh is very much in keeping with Indonesia's proud military traditions. The army has already begun summary executions, including boys as young as 12, The Independent reports. Dozens of innocent civilians -- including students and Red Cross personnel -- have been massacred in indiscriminate "sweeps," The Guardian reports. Most ominously, Jakarta announced last week that it will herd up to 200,000 Acehnese civilians into concentration camps, The Times reports. Presumably this is "merely" to deny local support for the rebels, and hold their families hostage -- although given the Indonesian military's recent history, the sky's the limit. Or perhaps we should say, the grave?
The blitzkrieg is being carried out with hardware and expertise supplied by the Christian Coalition of Bush and Blair. Bush renewed military ties with the genocidist army last year, as a reward for help in -- what else? -- the "war on terrorism." Meanwhile, Indonesia's British-made warplanes -- supplied under Tony Blair's self-proclaimed "ethical foreign policy" -- keep minatory watch in God's blue heaven.
It's not all bad news, of course. You'll be happy to know that Aceh's biggest corporation is still raking in big bucks despite the carnage, Reuters reports. That would be the Bush Regime's favorite oil and gas giant, ExxonMobil. For, like Iraq, Aceh possesses an abundance of energy resources; yet also like Iraq -- and most other similarly blessed lands as well -- Aceh's energy-exploiters are rich but the people themselves are unaccountably poor.
In fact, there has been an interesting confluence between the Bushists, ExxonMobil and war-ravaged Aceh. Last year, Bush intervened in the U.S. courts to quash a lawsuit filed by Aceh natives against the American oil company, which uses Indonesian troops as hired muscle to protect its operations against the local riff-raff. The Acehnese accused ExxonMobil of colluding with its hired hands in the murder, rape and torture of civilians. But Bush said the lawsuit would "harm American foreign policy interests." This certainly seems a bit of a stretch -- unless, of course, "American foreign policy interests" involve murder, rape and torture by corporate mercenaries. Surely Mr. Bush is not saying that -- is he?
By mid-week, the rape of Aceh -- massacres, executions, concentration camps and all -- had virtually disappeared from the media screen, much like that other recipient of the "blessing of Sept. 11," the ruined and abandoned land of Afghanistan. The restless addict Bush, craving a fresh hit, patently ignored his Indonesian imitators and instead turned his fevered eyes to Iran, where he hopes to bestow a fresh "blessing" soon. Aceh is irrelevant. The dogs bark, the caravan moves on.
Only the corpses remain behind.
Comment: This is what Bush means when he asks Europen nations to "support the United States' approach to fighting terrorism". It is an approach to fighting "terrorism" that the American people are already complicit in. This is not a drill, there are those that choose to ignore objective reality and bury their heads further in the sand "for those individuals, the worlds will cease. They will become exactly what they give to life. They will become merely a dream in the 'past'".
Israel to lift closures on Palestinian territories
Saturday, May 31, 2003 22:22 GMT
JERUSALEM (CNN) -- The Israeli government approved the lifting of its closure of the West Bank and Gaza on Saturday ahead of peace talks with the Palestinians next week, a spokesman for the Israel Defense Forces said.
The closure will be lifted at midnight [5 p.m. EDT], the spokesman said.
Israel shut down the West Bank on May 18 in response to a series of attacks by Palestinian militant groups against Israeli civilians that weekend.
The Israeli government imposed a similar measure on Gaza on May 12, citing warnings from terrorist groups based there that suicide attacks in Israel were planned.
The closures sealed Palestinians into the territories, barring them from entering Israel for any reason, including to work.
Israeli Prime Minister Ariel Sharon and his Palestinian colleague, Mahmoud Abbas, are set to meet President Bush in a three-way summit on Wednesday in the Jordanian port city of Aqaba. The U.S.-backed "road map" to peace envisions an end to Israeli-Palestinian conflicts and the creation of a Palestinian state by 2005.
Halliburton agrees to settle accounting suits
HOUSTON (AP) -- Halliburton Co. said Friday it has agreed to pay $6 million to settle 20 shareholder lawsuits that accused it of using deceptive accounting practices while Vice President Dick Cheney led the company. [...]
Officials: Rumsfeld trying to make foreign policy
By JOSEPH L. GALLOWAY
Knight Ridder Newspapers

WASHINGTON - President Bush, Secretary of State Colin Powell, national security adviser Condoleezza Rice and other top officials are spending hours coping with frequent, unsolicited attempts by Defense Secretary Donald H. Rumsfeld to make foreign policy, according to senior administration officials who are directly involved.
The officials said Bush himself had to quash a Rumsfeld proposal last month to send Deputy Defense Secretary Paul Wolfowitz to South Korea to announce that the United States was pulling American troops off the Demilitarized Zone that separates North and South Korea. [...]
From his first days in office, Rumsfeld has inundated Washington with a blizzard of memos regarding foreign policy, not usually the responsibility of a defense secretary.
"There are literally thousands of them," said one frequent recipient of Rumsfeld's foreign policy ideas and advice. "The theme is control. He wants everyone to have to play on his field."
It's been no secret in Washington that Rumsfeld and Powell have disagreed frequently on foreign policy questions. But the leaking of the existence of Rumsfeld's memos - remarkable in an administration known for its discipline - is a sign that the bitterness between the camps is intensifying.[...]

Wolfowitz Calls for Economic Pressure on Impoverished North Korea to Back off Nuclear Program
By Kenji Hall
Associated Press Writer
SEOUL, South Korea (AP) - Deputy Defense Secretary Paul Wolfowitz arrived in South Korea on Sunday for a two-day visit that is expected to include discussions with officials over North Korea's suspected nuclear weapons program.
Lt. Col. Steven Boylan, a U.S. military spokesman, said Wolfowitz would meet later in the day with U.S. troops stationed at Camp Greaves, near the demilitarized zone that separates North and South Korea.
In the South Korean capital, Seoul, about 50 protesters opposed to Wolfowitz's visit marched outside a U.S. military base, demanding that Washington adopt a softer stance toward North Korea.
Hundreds of riot police stood by, but didn't intervene.
Also Sunday, a delegation of U.S. lawmakers, led by Rep. Curt Weldon, arrived in the South Korean capital following two days of talks with senior North Korean officials over the communist regime's nuclear programs, a U.S. Embassy official said.
In Singapore on Saturday, the Pentagon's No. 2 said Washington hopes to end the nuclear standoff with North Korea by putting economic pressure on North Korea.
North Korea suffers chronic food shortages and has depended on outside help since the mid-1990s to feed its 22 million people.
North Korea "is teetering on the edge of economic collapse," Wolfowitz said. "That, I believe, is a major point of leverage." [...]
Bush Stymied in Efforts to Pressure N. Korea
Asian Partners Reluctant to Take Steps to Further Isolate Nuclear Power
By Doug Struck
Washington Post Foreign Service
Sunday, June 1, 2003; Page A22 SEOUL -- President Bush's efforts to form a united front to put economic pressure on North Korea are being undercut by misgivings among his Asian partners, despite shows of solidarity at summit meetings last month, according to government officials and analysts. [...]
by Les Zaitz
The Oregonian

The CIA used Sheik Mohamed Abdirahman Kariye, a leader of a Portland Mosque, the Islamic Center, and the Global Relief Foundation, to recruit warriors for the CIA Afghan "jihad" against Russia in the 1980's. The federal prosecution of Sheik Mohamed Abdirahman Kariye, which began eight months ago with a high-profile arrest at the Portland airport, ended quietly Thursday when a federal judge sentenced the Islamic leader to five years' probation on two minor charges.
Kariye, 41, said nothing as U.S. District Judge Owen Panner imposed a $1,000 fine and ordered $5,000 restitution on charges of lying to get public health insurance. [...]
Olympics bombing suspect finally captured
Saturday, May 31, 2003
By KRISTEN WYATT
ASSOCIATED PRESS
MURPHY, N.C. - Eric Robert Rudolph, the Olympic Park bombing suspect who became almost a mythic figure during his years on the run in the Appalachian wilderness, was arrested early Saturday as he scavenged for food behind a grocery store.
After a massive manhunt that included infrared scopes on helicopters and logs rigged with motion detectors, it was ultimately a rookie officer on patrol at 4:30 a.m. who spotted a man with a camouflage jacket, blue work britches and a stubbly beard behind a Save-A-Lot food store.
The man who has been on the run for more than five years took off running one more time and finally gave up behind a pile of milk crates. At first, he gave the fake name Jerry Wilson, but officers who recognized him as one of the most wanted men on U.S. soil pressed him on his identity for 20 minutes. [...]
Rudolph is accused in the July 27, 1996, bombing at Atlanta's downtown Olympic Park that killed a woman, wounded 111 others and stunned a world focused on the fanfare of the 25th modern Summer Olympics.
Rudolph is also a suspect in a bombing at an abortion clinic in Birmingham, Ala., that killed a police officer, and bombings outside a gay nightclub and an office building in Atlanta that contained an abortion clinic.
Rudolph is thought to be a follower of the white supremacist Christian Identity religion that is rabidly anti-abortion, anti-gay and anti-Semitic.
[...] Swecker said more agents would be arriving over the next couple of days to comb the backwoods, and he warned the public and the media to stay out of the way.
[...] Coming a year after the Oklahoma City bombing, the infamous signature moment of the Olympic Games became an exploding knapsack that sent nails and screws ripping through a packed crowd that gathered to watch a rock concert. Alice Hawthorne was killed. The last week of the games was dominated by the explosion and the fast-moving investigation into security guard Richard Jewell, who was later cleared.
The nightclub and office building blasts occurred in 1997 in the Atlanta area, followed by the abortion clinic explosion in Birmingham in 1998 that killed police officer Robert Sanderson. Some of the bombs were followed by messages from the shadowy "Army of God."
"This sends a clear message that we will never cease in our efforts to hunt down all terrorists, foreign or domestic, and stop them from harming the innocent," Attorney General John Ashcroft said in a statement.[...]

"You don't have to go to the Middle East to find terrorists. Rudolph is one of them. He terrorized and he murdered," Lyons said.
Comment: A few concerns regarding this article: one, Bush is telling us he can round up a supposed world-wide terrorist oraganization and snuff them all out, and some are buying it, and yet they couldn't find one man in hiding in the woods for five years. Now that they have him what are they going to do out there in the woods that needs secrecy? And of course, Ashcroft has a convenient vehicle to start getting people used to the idea that all disgruntled Americans are terrorists.

Orgies of bloody murder have left Congo traumatised
By Declan Walsh, in Bunia, D R Congo
31 May 2003
The Independent
When they came for Joseph Nzeloy, the Congolese gunmen had an argument. Should they kill the farmer's family by slicing open their stomachs, cutting their throats or chopping off their heads? After a thought, they decided.
With a gun to his temple, Mr Nzeloy, 62, watched as the killers grabbed his wife, eight children and two brothers, and bound them. Then, one by one, they sliced their throats. Mr Nzeloy survived after being left for dead. "I heard everything but could do nothing. I was powerless," he said from his hospital bed.
This is the sort of killing the United Nations hopes to stop in Bunia, in the Ituri region of north-eastern Congo, with an emergency force sanctioned yesterday. A force of about 1,400 peace-keepers, led by the French but including troops from Britain and Belgium, Germany, Spain and Italy, will try to stop the massacres.
Between three and four million people have died in Congo's war since 1998 but western intervention has been minimal. But this month's vicious battle for Bunia has finally prompted a response from the West. Fighting between the rival Hema and Lendu tribes left more than 400 people dead. By local standards the bloodshed was not exceptional - villages were annihilated last year - but it happened metres from 700 UN troops, who did nothing to stop it.
Reports of cannibalism helped attract the West's attention. Some fighters believe that eating an enemy's heart, kidney or sexual organs brings magical powers. Benoit Tshikala found a friend's body on 12 May. His throat had been slit, his stomach cut open and his heart removed. "I had heard of that before but never seen it. I am still traumatised," said Mr Tshikala.
At the height of hostilities, one Lendu soldier paraded around the town with a kidney strapped to his chest. For now the UN has only a fingerhold on stability in Bunia. Armoured vehicles manned by Uruguayan troops thunder along the road from the headquarters to the airport. But true control lies with the Union of Congolese Patriots (UPC), the ruthless Hema militia that seized control two weeks ago.
Daniel Litsha, secretary general of the UPC, described his group as "Congolese nationalists" who only sought "peace, reconciliation and the unity of our country". But on the streets of Bunia, the evidence suggested otherwise.
Dozens of child soldiers swaggered down Bunia's main street. Baraka Asiye, a 15-year-old with small, deadened eyes, sat on a motorcycle he was barely big enough to ride. An AK-47 was slung casually across his back. "I don't know how many Lendus I have killed," he said. "Some of them I shot, others I killed by hand with a knife." He added: "They are not good people. They are the enemy."
The troop deployment announced yesterday has raised fears that the Lendu militia will attempt to seize control of Bunia before the soldiers arrive. The UPC has intensified intimidation against the few remaining Lendu. Some have been killed; others found bullets in front of their doors. In the past few days anonymous letters have warned "enemies" to leave within 48 hours. Nearly all have gone.
Yesterday morning a UN vehicle was followed closely by a pick-up truck full of gunmen. "It was clear intimidation," said Isabelle Abric, a UN spokeswoman. UN troops also found six mines on the edge of the airstrip, which is expected to be the flashpoint for any outbreak of fighting.
In the airport terminal, hundreds sat on their bags, hoping for a flight out. Many had been waiting for two or three weeks but few had the $60 (£36) fare to fly by cargo plane to Beni, 150km to the south.
In front of the town's Catholic church, a mound of freshly turned earth in a beanfield marked a mass grave. Three Lendu militiamen burst into the church hall where terrified civilians had been sheltering. They singled out the Hema and opened fire. Twenty-two people died in the attack.
Jean-Edouard Dhena Ndjango later found his mother had been shot in the head and his four-year-old son had had his stomach slit open. Why were the UN peace-keepers cowering in their base at the time, he asked angrily. "This observation mission is useless. You can't observe when people are killing one another and then count the bodies afterwards."
Fresh atrocities are flaring elsewhere in Ituri. According to Amnesty International, dozens of people are being imprisoned in metal containers in Aru, on the Ugandan border, following an attempted coup against the FAPC militia. Several have been tortured and at least four have been executed. Rwanda and Uganda, who have covertly supported the rival Hema and Lendu groups, are manipulating the conflict.
The spate of tribal killings has invited comparisons with Rwanda's 1994 genocide but analysts say an all-out slaughter is still unlikely in Ituri.
"This is not a state-led genocide," said François Grignon of the International Crisis Group. "But you have two militia groups committing acts of genocide. And for both the extermination of the other is the only solution."
China jails web dissidents

BBC Online
Four Chinese internet writers have been sentenced to long prison terms for subversion.
The Beijing Intermediate People's Court sentenced geologist Jin Haike, 27, and Xu Wei, a 28-year-old journalist for Beijing's Consumer Daily, to 10 years each in prison.
Yang Zili, a 31-year-old computer engineer, and Zhang Honghai, a 29-year-old freelance writer, were each given eight years.
The men, who have already been in custody for 20 months, had set up an internet-based group, the New Youth Society, which was dedicated to exploring democracy and social reform.
They had posted articles on the internet critical of the Chinese Government.
Their sentencing follows that last week of Huang Qi, a Chinese web operator, who was the first person China put on trial for internet crimes.
One of the men sentenced on Wednesday, Xu Wei, told the court he had been brutally beaten and tortured with electric shocks to his genitals, according to campaign group Human Rights in China...
The Chinese authorities are keen to promote the commercial potential of the internet, but are anxious to control its political content.
Reporters Without Borders estimates that China employs 30,000 people to watch what its people are doing online.
The group estimates that 36 people have been arrested and jailed for putting controversial content on the internet.
US cigarettes 'higher cancer risk'
BBC Online
Cigarettes made by the US company Marlboro contain a significantly higher level of a cancer-causing chemical than most other foreign brands, US scientists say.
The Center for Disease Control and Prevention in Atlanta, Georgia, compared the level of the carcinogen nitrosamine in Marlboro cigarettes - chosen for their availability across the globe - with local brands in 13 other countries, including Japan and Germany.
It found that in 11 of the countries, the local brands had much lower levels of the chemical than Marlboro cigarettes, in some cases less than half the amount.
CDC officials said that the higher levels were the result of the way tobacco in US cigarettes is cured and blended.
'Reducing harm'
The results, published in the Nicotine and Tobacco Research journal, could indicate that it is possible for manufacturers to lower the levels of the nitrosamine carcinogen in cigarettes, report author David Ashley told the Associated Press news agency.

Skywatchers see 'ring of fire'
BBC
Skywatchers in the North Atlantic region were treated on Saturday to an annular eclipse of the Sun.

Just after dawn, people standing in a broad path from Scotland to Greenland saw the Moon slip inside the Sun's disc to produce a "ring of fire" around the lunar limb.
But the low position on the horizon for the event meant many people had their view obstructed by mist and cloud...
Because the Moon is currently more than 400,000 kilometres from Earth in its orbit, its apparent size in the sky is insufficient to completely cover the Sun's disc - as happens in a total solar eclipse.
The sky does not go completely black; a ring or annulus of sunlight is still visible.
The effect is to throw an "antumbra" or "negative shadow" on the Earth's surface as the Moon moves across the face of the Sun. It is the track of this antumbra that is referred to as the path of annularity.
Question From Reader
As I understand the process, even if Bush is impeached...Herr Cheney becomes Prez. It does not seem like a solution to the problem. How do we get rid of Cheney? Same process? If we can get rid of both, who is then next in the line of succession? Speaker of the House?
R
Comment: Good Question. The signs team thinks the best strategy may be to prove Bush's involvement in the 9/11 terrorist attacks on America, indict him and the whole clan for treason and murder rather than purely focusing on impeaching Bush. U.S. citizens need to come to the realization that pure, malevolent evil exists, (shock! horror! even in America!) in order to protect themselves from it.
There may even be a real possibility that Bush is being set up, as he dismantles America economically and terrorist strikes increase, that the U.S. population will become so fed up that they will begin to look for a saviour. We are wary of these politicians such as WV Dem. Senator Byrd who is doing a bit of trash talking regarding Bush. Bush could be run out on a rail, and then serious clamps down on freedoms to "help rebuild America and take back it's former glory," could be the talk. Nothing makes you safer than giving up freedoms.
So what to do? Eternal vigilance and pursuit of knowledge. These people use double, triple psychology and figure that we all are herds of dumb sheep. Perhaps it is time to prove them wrong.
Question From Reader
[T]oday around 7:45/ 8:00pm [Thursday] there was an enormous falling, illuminating object that was decsending straight towards our direction as if it was going to hit "ventura", suddenly 3 small illuminating balls were surrounding it ,then out of nowhere a small plane with no lights passed the large lighted object and completely changed its course and veered to the north east"Bakersfield" these illuminating tails from these objects were as if they were as bright as the sun. Soon after it disappeared into the east, we sighted an abundance of military planes across the sky from Magu to Vandenburg. Did you happen to witness this? What was it? What is your opinion or take on this sighting or observation?
K
Comment: So far, this is the first report of this sighting the Signs team has heard. Any other California readers spot this or see any media reports?
Europe goes to Mars

By Helen Briggs
BBC News Online science reporter
Sunday, 1 June, 2003, 01:01 GMT
The race to find life on Mars is set to begin on Monday with the launch of Europe's first voyage to another planet.

Ready to go: Mars Express and its Beagle lander sit atop the launcher
Three probes are leaving Earth this summer, starting with the European Space Agency's Mars Express mission.
It carries the Beagle 2 lander, which, if all goes well, will become the first British-built craft to touch down on another world.
The launch marks the start of a new golden age in Mars exploration.
The US space agency (Nasa) is sending two missions to the fourth planet. The first of its Mars Exploration Rovers should leave Earth in a week or so.
Another Mars traveller is destined to arrive early next year. Japan's Nozomi craft should reach the planet early in 2004 after a long journey beset by mishaps. [...]
Clues that Mars once had oceans, lakes and possibly microbes have sparked a "gold rush" to send unmanned space craft to visit the planet. [...]
S. Korea navy fires on intruders
Sunday, June 1, 2003 Posted: 04:45 GMT
SEOUL, South Korea (Reuters) -- South Korea's navy fired warning shots on Sunday after three North Korean fishing boats crossed their disputed Yellow Sea border, a military spokesman for the South said.
The spokesman declined to provide details, but confirmed a local television report that three North Korean boats retreated after the warning shots in the latest of a series of incursions this week in rich fishing grounds west of the divided peninsula.
On Saturday the South's military reported four fishing boats intruded into their territory but were chased back "after we broadcast warnings," a military spokesman said earlier.
"We are studying the reason for the intrusion."
On Thursday, North Korea accused South Korea of sending warships across the maritime boundary, warning Seoul that further moves could lead to "irrevocable serious consequences," ratcheting up tensions on the divided peninsula. [...]
Death Toll Nears 800 From India Heat Wave
By OMER FAROOQ, Associated Press Writer
HYDERABAD, India - Sunstroke and dehydration claimed another 160 lives in a southern Indian state, raising the death toll from a two-week heat wave to nearly 800, a relief official said.
Temperatures rose as high as 118.2 degrees Fahrenheit and meteorologists promised no relief from the heat wave for another two days in Andhra Pradesh state, the state's chief relief official, D.C. Roshaiah, said Saturday. [...]
Tales of orgies and murder rock France
Politicians and police linked to scandal
Paul Webster in Paris
Sunday June 1, 2003
The Observer
The claims involve white slavery, sado-masochism, rapes, sex with minors, drug dealing and appalling brutality - all in the heart of the government of one of France's most historic and most civilised cities. The southern city of Toulouse, known as la ville rose because of its sun-drenched Spanish-style buildings, has been scandalised by allegations that public officials protected a barbaric serial killer charged with murdering prostitutes recruited for orgies in the city's courthouse. Though the accusations are unproved, Justice Minister Dominique Perben sacked Toulouse's prosecutor-general, Jean Volff, last week for covering up links between senior officials and the exploitation of vulnerable girls. Volff has denied any wrongdoing. [...]

ID card 'tricks' anger net users
By Mark Ward
BBC News Online
Technology correspondent Lobby groups fear public responses will be trashed.
Net activists are pressing the UK Government to explain what has happened to thousands of public responses that expressed doubts about the merits of ID cards.
The responses were passed on by groups such as Stand and Privacy International when the government was seeking public comment on its ID card proposals.
The groups have been dismayed by bullish official announcements on ID cards and fear that all dissenting views are being ignored.

First suspected West Nile Virus human case in Washington
Seattle Times
KENNEWICK — The state Health Department said today it was investigating the first suspected case of West Nile virus in a human in Washington.
A Franklin County man became ill in mid-May and is now recovering. His identity was not released.
The federal Centers for Disease Control and Prevention is running tests that would confirm whether this is the first case of the mosquito-borne disease in the state. Those results will take about two weeks. Preliminary state tests indicate it is West Nile.
When the chips are down, bad luck is all in the mind
New study claims that, with the right attitude, you can overcome life's bum deals
By Jenifer Johnston
The Sunday Herald

The age-old adage that 'you make your own luck' has been proved by scientists from Stirling University.
A two-year research project, led by Dr Duncan Pritchard, has concluded that while everyone enjoys the same amount of luck or misfortune in their lives, it is the way we deal with it that makes the difference.
Pessimistic people will ignore 'lucky' situations when presented with them, while upbeat people are more likely to grab opportunities with both hands, reap the benefits and appear 'lucky'.
Pritchard, a psychologist at the university, studied gamblers and football managers' superstitions and found that no amount of lucky horseshoes, lucky white heather, four-leaf clovers or carrying out bizarre rituals actually makes any difference.
Pritchard told the Sunday Herald that people's attitudes towards luck affect how lucky they feel.
'There is no evidence to suggest some people are more lucky than others -- people who appreciate good luck when it comes their way will prosper and will, in turn, be considered lucky people,' he said. [...]
America's Schools Get the OK to Serve Irradiated Meat to Students
Schools to Be Allowed to Serve Irradiated Meat
By THE ASSOCIATED PRESS
WASHINGTON, Oct. 26 - Schools will be allowed to serve children meat that has been sterilized through irradiation, the Agriculture Department has decided. Irradiation sterilizes food by using low levels of gamma rays or electrons to kill bacteria and parasites, like E. coli and salmonella. In 1999, the government approved the sale of irradiated meat to the public, but irradiated meat was prohibited in the school lunch program. The farm bill approved in May changed that, said Alisa Harrison, spokeswoman for the Agriculture Department. [...]
Some advocacy groups say irradiated food is unhealthy, though the World Health Organization and the American Medical Association have said it is safe. The consumer group Public Citizen has strongly opposed irradiation, saying the process destroys vitamins and nutrients and can cause chemicals linked to cancer and birth defects to develop. [...]
Tornadoes Hit Central, Northern Illinois
Sat May 31,12:59 PM ET

CLINTON, Ill. - Tornadoes cut across central Illinois for the second time in a week, destroying about 15 homes and damaging dozens of others, state and county emergency officials said. [...]
Damage in northern Illinois was less severe, but tornadoes were reported in Lee, Kendall and Winnebago counties, said meteorologist Joel Veeneman in the weather service's Chicago office. [...]
And Finally...
Toronto to host World Stupidity Awards

Canadian Press

Toronto — What do U.S. President George W. Bush, Tory MP Elsie Wayne and Toronto Mayor Mel Lastman have in common?
They're all nominees for the first annual World Stupidity Awards, a dubious honour to be bestowed on June 6 — whether they like it or not — on some of Canada's, and the world's, most recognizable public figures.


---
Check out the Signs of the Times Archives
Send your comments and article suggestions to us.
---
Fair Use Policy
Contact Webmaster at signs-of-the-times.org
Cassiopaean materials Copyright ©1994-2014 Arkadiusz Jadczyk and Laura Knight-Jadczyk. All rights reserved. "Cassiopaea, Cassiopaean, Cassiopaeans," is a registered trademark of Arkadiusz Jadczyk and Laura Knight-Jadczyk.
Letters addressed to Cassiopaea, Quantum Future School, Ark or Laura, become the property of Arkadiusz Jadczyk and Laura Knight-Jadczyk
Republication and re-dissemination of our copyrighted material in any manner is expressly prohibited without prior written consent.
.