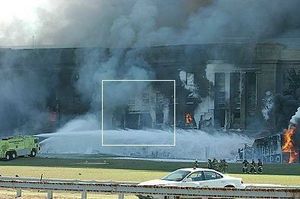 Recently it has come to my attention that there are a number of so-called "Historical Revisionists" who have taken up the idea that Adolf Hitler was a "good guy" and that, as one of them wrote to me recently, "we now need an American Leader like Hitler."
I am dismayed by such naivete, but not entirely surprised. For anyone who studies the nature of evil and its origins in psychological pathology, it is not a surprise that persons who are not fully familiar with this problem can be so easily taken in. It is, however, a perennial problem, and until normal people learn this most essential thing about our world, they are helpless, and there is no hope for change for the better. The fact is: we ALREADY have an American leader like Hitler.I frequently get emails and letters from readers who simply cannot understand how psychopaths - and other related or similar psychological deviants - can move into positions of power, how they can "put one over" on so many people. It strikes the average person as preposterous that even they can be taken in by a deviant. As I wrote in my blogpost, "
The Cult of the Plausible Lie
":
"Our culture agrees on the signs of lying. Ask anyone how to tell if someone is lying and they will tell you that they can tell by "lack of eye contact, nervous shifting, or picking at one's clothes." Psychologist Anna Salter writes with dry humor: "This perception is so widespread I have had the fantasy that, immediately upon birth, nurses must take newborns and whisper in their ears, "Eye contact. It's a sign of truthfulness." [Anna C. Salter, Ph.D.]
The problem is, if there is a psychopath - or those with related characteropathies - who doesn't know how to keep good eye contact when lying, they haven't been born. Eye contact is "universally known" to be a sign of truth-telling. The problem is liars will fake anything that it is possible to fake, so in reality, eye contact is absolutely NOT a sign of truth telling.
The practiced liar: a category of liar that even experts find it difficult to detect.

Problem is, even when dealing with people who are not practiced liars, such as college students who have volunteered for a research study of lying, most observers are not as good as they think in detecting deception. The research shows consistently that most people - even most professional groups such as police and psychologists - have no better than a chance ability to detect deception. Flipping a coin would serve as well. [Anna C. Salter, Ph.D.]