Sutton's experts on the unexplained, the Ashfield Paranormal Investigation Team (TAPIT), are looking into reports of strange objects in the night sky on Saturday.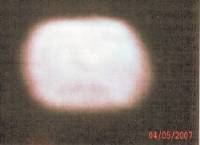 ©Chad
The UFO sighting in Sutton that got you all talking earlier this year.
Members of the team say calls have been flooding in from locals claiming to have seen a number of large orange balls in the air.
Says Lee Roberts, team leader for TAPIT: "We have had three reports from people at a restaurant in South Normanton describing the object as like a flame going across the sky which was not a plane or a firework."