David McCune just wants to know what's in the digital photograph that he shot while flying at 37,000 feet over the southern region of the country on a hot July afternoon.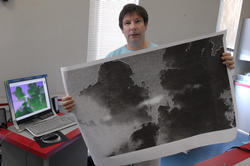 ©Raul R. Rubiera
David McCune holds up a photo he took while flying at 37,000 feet from Atlanta to Kansas City, Mo. When he got home he found that one of the photos he took with his 10 mega-pixel camera had a UFO in the middle of the frame.
He's bewildered.
He can't help but wonder if it's a UFO. No matter how much skepticism he provokes
Even Peter Davenport, the director of the National UFO Reporting Center in Washington state, has doubts.