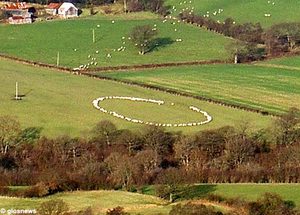 ©Glosnews
There were strange goings on at the farm today when a flock of sheep made their own version of a crop circle.
About 100 of the woolly creatures formed an orderly ring - baffling the farmer and passers-by.
But after hearing the roar of the boss's tractor the animals scattered like a group of naughty schoolboys.
Photographer Russell Bird, who captured the amazing scene, said:"I was quite taken aback. I couldn't believe what I was seeing," he said.