Tatamagouche - When Mathieu Giguere looked across Tatamagouche Bay in mid-January and saw a brightly lit ship it didn't seem like anything out of the ordinary.
The 17-year-old was used to viewing late night harbour cruises on the St. Lawrence River near his home in Sorel-Tracy, Quebec, but soon he realized the bay was blocked by ice causing him to question what he was staring at.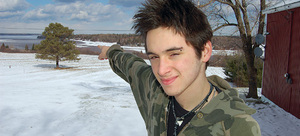 ©The Truro Daily News
Mathieu Giguere, a 17-year-old Katimavik participant visiting the Tatamagouche area, points to where he believes he saw the legendary Phantom Ship floating in Tatamagouche Bay.