Capitola, California -- Private eye T.K. Davis has worked his share of oddball cases. Once he tracked down a one-armed woman wanted for child endangerment. He staked out a backyard to catch a guy throwing dirt clods into a pool. When you make your living answering life's mysterious questions at $100 an hour, you take a few calls out of the blue.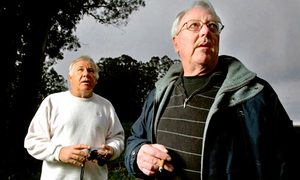 ©Robert Durell / Los Angeles Times
SLEUTHS: Private eyes Frankie Dixon, left, and T.K. Davis at a park in Capitola, Calif., where they're investigating reports that a UFO was photographed by a man with the Internet name of Raji, who later vanished into cyberspace.