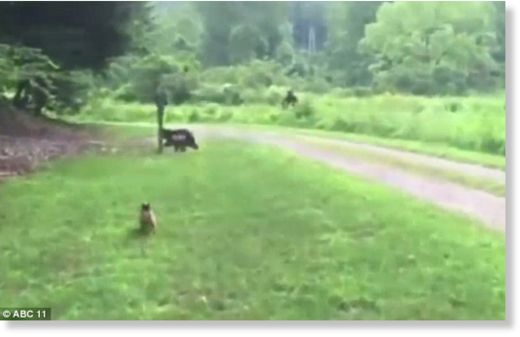 Bigfoot might be a Tar Heel...
A North Carolina man from Boone vacationing near Asheville who claims he saw Bigfoot got a big assist from his little dog while capturing video of Sasquatch crossing the road in Henderson County.
Eric Walters wasn't the only one to see the Missing Link - his brown Yorkshire Terrier Zippy did too.
Walters was taking Zippy for a walk on Thursday morning when they spotted 'Bigfoot' walking near some brush on the side of a dirt road, according to the
Citizen-Times
.
He said: 'Either there's a Sasquatch out there or someone is trying to play a practical joke.'
The large figure captured on the cellphone video shot by Walters can be seen walking into the bushes without acknowledging the camera or Zippy's barking.