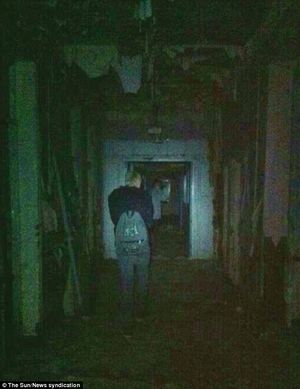 A woman exploring a derelict hospital was left stunned after a photo she took in the spooky building appeared to show the ghostly figure of a doctor.
Jamie-Leigh Brown, 21, was walking the abandoned corridors of St Thomas's Hospital in Stockport - which closed down in 2004 - when she took the chilling picture.
She did not check the photo at the time as
she and her and friends were too concerned with the footsteps they were hearing above them - despite the hospital having no usable staircases.
The group became spooked and fled the building after only a few minutes and it was not until later that Ms Brown discovered the haunting figure lurking in the background of the shot.
She told
The Sun
: 'It freaked me out. It's standing in a lift shaft. It's really creepy to think my friend was just heading towards the area where the ghost was.
'We'd only gone into the workhouse for a laugh and to look around. We kept hearing noises above us like shuffling and footsteps but hadn't actually seen anything.'