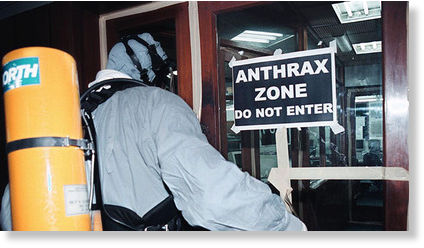 As many as 84 scientists working at the Centers for Disease Control and Prevention (CDC) in Atlanta may have been exposed to the anthrax bacteria after failing to follow safety procedures, the US government said.
According to information released by the CDC earlier on Thursday and first reported by Reuters, the possible exposure to live anthrax began within a high-level bio-security lab. Researchers evidently failed to follow set procedure to inactivate the deadly bacteria.
Potentially live anthrax samples where then transferred to CDC labs with a lower biohazard protocol, leaving open the possibility for infection. Typically, inactivation procedures dictate the inactivation of Anthrax to be given 48 hours prior to any transfer to a lower biohaz environment.
Still, the CDC says that the potential for anthrax infection to spread widely over the incident is low.
"CDC believes that other CDC staff, family members, and the general public are not at risk of exposure and do not need to take any protective action."
The FBI is now collaborating with the CDC to investigate how scientists were exposed to anthrax, although they say there is no evidence of wrongdoing.