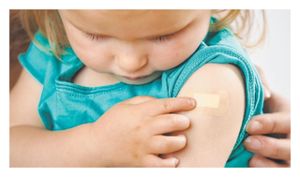 Parents who fail to vaccinate their children should face barriers to enrolling them in school and childcare centres, the Australian Medical Association says.
Only one state, NSW, requires childcare centres to ask for proof of vaccination when children enrol.
And Queensland, South Australia and the Northern Territory aren't required to ask about immunisation status when children enrol for school, the Federal Department of Health and Ageing has warned.
AMA president Dr Steve Hambleton says parents who don't vaccinate their children should be forced to produce a conscientious objection form.
This extra step is not currently required by schools.
''If they have to fill out a form it means they will have to make a conscious decision about whether they want to vaccinate or not,'' he says.
The act of asking parents to produce the form may be all that is required to prompt them to vaccinate their children, he says.
''We should make it difficult for parents so they do have to think twice about whether they vaccinate their children. As I say they have got a responsibility to their own children and they've got a responsibility to the community's children,'' he said.
The AMA's call came as new data on immunisation shows many local areas in Australia's big cities have such low immunisation rates children are at-risk of catching deadly diseases.