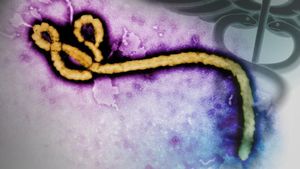 A second World Health Organisation (WHO) staff member has been infected with Ebola in West Africa and will be evacuated to Germany, health officials said Wednesday. The announcement comes a day after the WHO shut a laboratory in Sierra Leone, after a Senegalese epidemiologist was infected with the deadly virus.
The unnamed WHO worker will be treated in a university hospital in Hamburg-Eppendorf, hospital spokesman Rico Schmidt told dpa.
The patient was expected to land in the northern city of Hamburg Wednesday and be transferred to the hospital in an isolated emergency vehicle.
It was unclear in which West African country the WHO worker had been infected with the virus.
The Ebola death toll across West Africa had risen to 1,427 by August23, according to the WHO, with a total of 2,615 suspected or confirmed cases in the region.