As mounting evidence shows genetically modified foods have dangerous health and environmental repercussions, the number of scientists willing to step forward and speak out against them is similarly growing.
Dr. Thierry Vrain
is just the latest of many scientists to buck Monsanto and their hired goons, changing his stance on GMOs and shouting their dangers to anyone that will listen.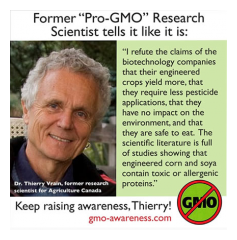 Dr. Vrain is a former research scientist for Agriculture Canada. It was his job as scientist of his institute to address the public and others, assuring them of the safety of genetically engineered crops and foods. Now, 10 years after his retirement, he's changed his tune.
"In the last 10 years I have changed my position. I started paying attention to the flow of published studies coming from Europe, some from prestigious labs and published in prestigious scientific journals, that questioned the impact and safety of engineered food.

I refute the claims of the biotechnology companies that their engineered crops yield more, that they require less pesticide applications, that they have no impact on the environment and of course that they are safe to eat."
The studies commissioned by Monsanto understandably come to the conclusion that genetically modified foods and crops are both safe for the environment and safe for people. They are commissioned by the people who want that outcome. Studies from objective researchers, however, often come to very different conclusions.