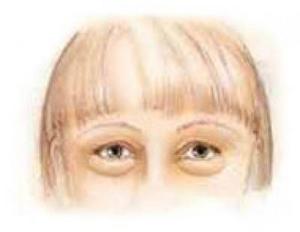 ©American Society for Aesthetic Plastic Surgery
A UCLA study finds that lower baggy eyelids are caused by fat expansion in the eye socket.
Many theories have sought to explain what causes the baggy lower eyelids that come with aging, but UCLA researchers have now found that fat expansion in the eye socket is the primary culprit.
As a result, researchers say, fat excision should be a component of treatment for patients seeking to address this common complaint.
The study, published in the September issue of the peer-reviewed
Journal of Plastic and Reconstructive Surgery
, is the first to examine the anatomy of multiple subjects to determine what happens to the lower eyelid with age. It is also the first to measure what happens to the face with age using high-resolution magnetic resonance imaging (MRI).