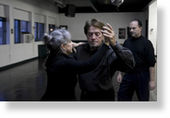 Looks like 82-year-old Cloris Leachman, a favourite cast member of this season's Dancing with the Stars, is on to something.
According to a study led by Patricia McKinley of McGill University's school of physical and occupational therapy, dance is beneficial for seniors.
McKinley's research focused on Argentine tango, a style born in Buenos Aires and known for its long, deliberate steps, outstretched arms and close contact between partners.
"I started doing tango myself after (age) 50, and I realized that the exercises I did in learning tango would be perfect for seniors who need to improve balance," said McKinley.
Anxious to test her theory, McKinley recruited 30 people between the ages of 62 and 91 who took either a tango class or went walking twice a week for 10 weeks. At the end of Week 10, the tango group outperformed the walking group in all measures of balance, posture, motor co-ordination and cognition.